Easy Eggless Potato Salad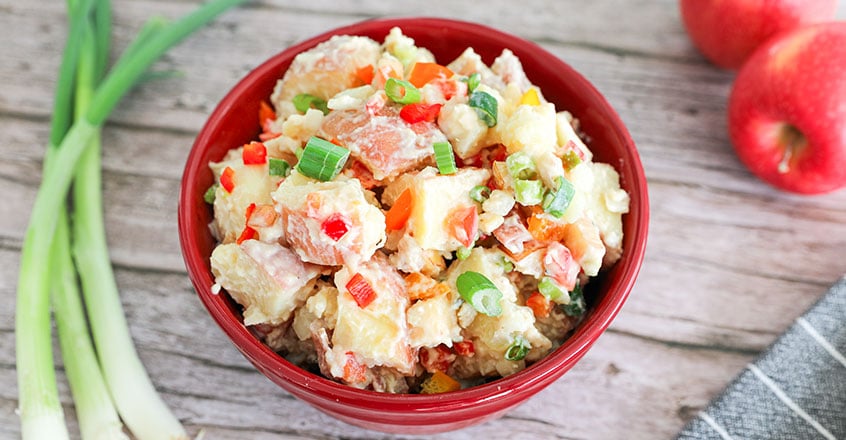 When she went plant-based, it was a snap to fit this same potato salad into her diet just by substituting a plant-based mayonnaise for the egg mayonnaise she used to use. Now it's even better than I remember!
What You'll Need
---
2 lbs of potatoes (Approx. 5 medium unpeeled potatoes)
½ cup apple, diced (unpeeled)
¼ cup of red pepper, diced
1 Tbsp sweet pickled relish
2 tsp apple cider vinegar
2 Tbsp green onions, diced
How to Make It
---
1 Cut the potatoes into small cubes, and boil them for 20 minutes or until tender.
2 While the potatoes are cooking, dice the apples and set them aside in a small bowl with a splash of lemon juice to prevent them from turning brown.
3 Drain the potatoes and let cool.
4 In a bowl, combine the potatoes, apple, onion, pepper, and garlic.
5 Add the pickled relish, mustard, apple cider vinegar, and tofu mayonnaise and mix well.
6 Add salt and pepper to taste.
7 Garnish with green onions and serve!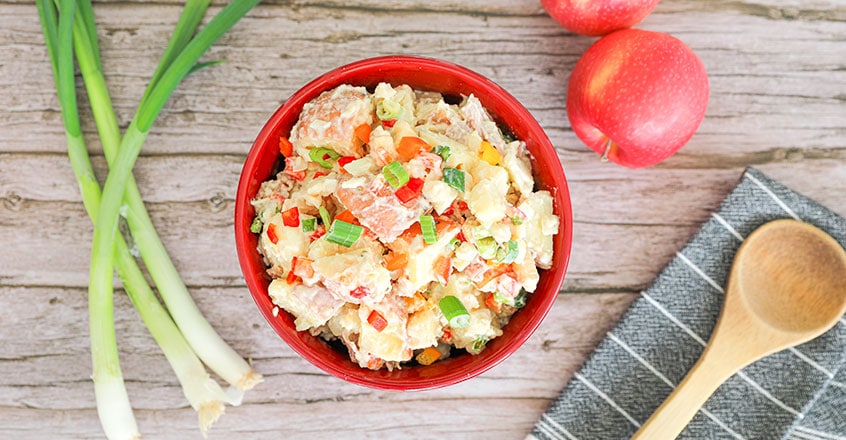 Copyright 2022 Center for Nutrition Studies. All rights reserved.