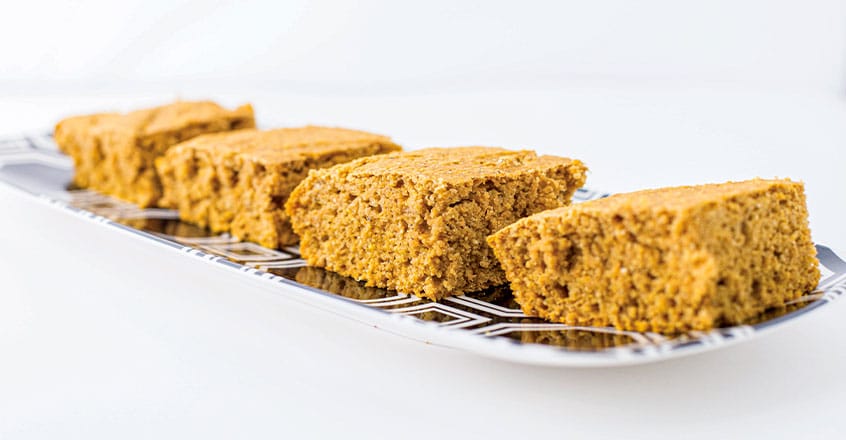 My dad used to make cornbread every weekend to serve with chili. He never made cornbread with sweet potatoes, but every time I serve it to my young cousins, they love the color that the sweet potatoes add to the dish.
Reprinted from The China Study Family Cookbook (BenBella Books, 2017).
What You'll Need
---
1 ½ cups whole wheat pastry flour
4 tsp double-acting baking powder
1 tsp ground cinnamon (optional)
2 cups unsweetened plant-based milk
1 ½ cups sweet potato puree
½ cup pure maple syrup (optional)
How to Make It
---
1 Preheat the oven to 375 degrees F.
2 In a large mixing bowl, whisk together the cornmeal, pastry flour, baking powder, sea salt, and cinnamon (if using).
3 In a small bowl, whisk together the plant milk, sweet potato puree, and maple syrup (if using). Add the sweet potato mixture to the bowl with the flour mixture and gently fold the ingredients together. Do not overmix or the cornbread will be chewy.
4 Spoon the batter into a nonstick 9 × 13 inch baking dish and bake until a toothpick inserted into the center of the cornbread comes out clean, about 30 minutes. Let sit for 15 minutes before slicing and serving.
Copyright 2022 Center for Nutrition Studies. All rights reserved.