Butternut Squash Soup With Apple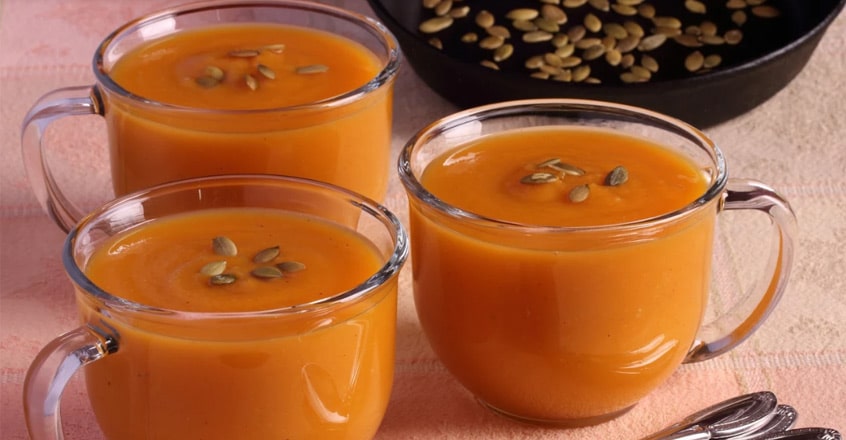 Reprinted from the cookbook, From Chronically Ill to Vibrantly Well: Recovery Through a Plant-Based Diet by Judy DeLorenzo (A Life Well Planted, 2019).
1 large butternut squash, ~4 lbs, peeled, seeded, and cut into 1-inch cubes
3 medium carrots, cut into ¼-inch-thick slices
1 medium sweet red apple, peeled, cored, and diced
2 Tbsp fresh ginger root, peeled and diced
2 Tbsp fresh turmeric root, peeled and diced (or 2 tsp turmeric powder)
4 garlic cloves, quartered
⅛ tsp freshly ground black pepper
¼ tsp sweet or hot paprika
1 to 2 Tbsp freshly squeezed lemon juice
1 Put all of the ingredients except for the lemon juice, and paprika for garnish into a soup pot; add just enough water to cover.
2 When the water starts to boil, reduce the heat and simmer, mostly covered, for 20 minutes or until the squash is fork-tender. Stir occasionally and adjust the heat, if necessary, to keep at a simmer.
3 Remove from the heat and blend well using an immersion blender (see tips).
4 Stir in the lemon juice. Taste and add more cinnamon, nutmeg, or salt if desired.
5 Ladle the soup into bowls and lightly sprinkle with paprika.
Cooking Tips
No Immersion Blender? If you don't have an immersion blender, you can use a full-size regular blender; however, follow these three steps so you don't end up with hot soup exploding everywhere: 1. Cool the soup down a bit. 2. Fill the jar no more than halfway. 3. Remove the blender lid's center insert and hold a kitchen towel over the top. Now you are ready to blend.
Do not try to blend this soup using a bullet blender.
Copyright 2021 Center for Nutrition Studies. All rights reserved.