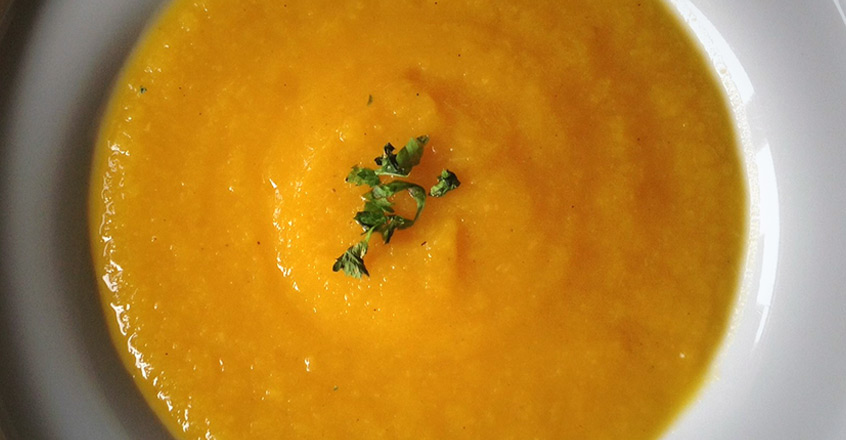 Ingredients
1 baking pumpkin (2.5 – 3 lbs)
2 medium parsnips
½ tsp nutmeg
4 cups water
½ tsp salt (optional)
Instructions
1. Preheat oven to 425 degrees F.
2. To roast the vegetables: Peel the parsnip and cut into ½-inch thick pieces. Cut the pumpkin in half along the equator. Use a big spoon to scoop out the seeds. You can roast the seeds and use as garnish on the soup.
3. Sprinkle the nutmeg inside the pumpkin halves.
4. Place the parsnip in a baking dish. Place the pumpkin, cut-side-down, over the parsnips. Add 2 cups of water to the baking dish. Roast at 425 degrees F for about 60 minutes.
5. The pumpkin is ready when it collapses and is soft enough to scoop out the flesh. Remove from the oven and let cool slightly.
6. When the pumpkin is cool enough to handle, use a large spoon to scoop out the flesh.
7. Place the pumpkin, parsnips, and any liquid from the pan into a blender. Add 1 ½ cups of water and the salt. Purée until smooth.
8. You might need to add another ½ cup or so of water to reach a smooth, pourable consistency. Make sure it is hot water, to keep your soup hot.
9. Garnish with parsley, pumpkin seeds, or chives and serve.
Cooking Tips
1. You can use a variety fall squash in this recipe. Acorn, Celebration, and Kabocha would all taste great.
100% online, learn at your own pace
Instructor led format
No prerequisites
Continuing education credits