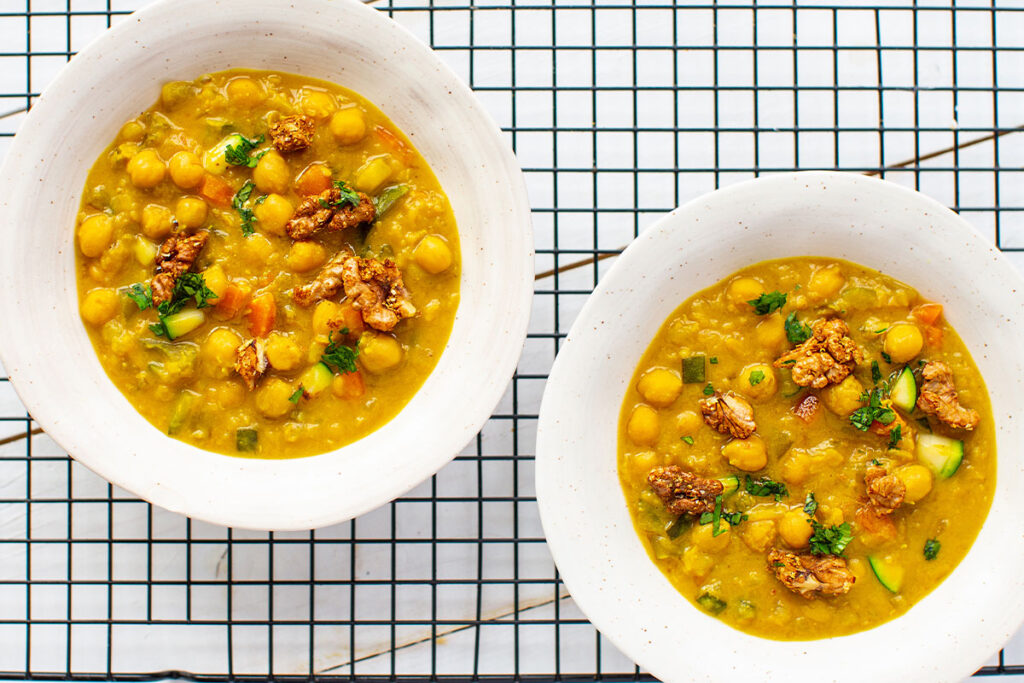 Ingredients
Soup
1 red onion, diced
2 celery stalks, small dice
2 carrots, small dice
1 tsp ground cumin
1 tsp ground coriander
1 tsp turmeric
2 cloves garlic, crushed
1 cup red lentils, rinsed
1 ½ cups cooked chickpeas
4 cups vegetable broth
3 Tbsp crunchy peanut butter
2 zucchini, small dice
1 large sweet potato, small dice
1 Tbsp tamari or low sodium soy sauce
Walnut Croutons
½ cup walnuts
1 tsp tamari or low sodium soy sauce
1 Tbsp nutritional yeast
¼ tsp onion powder
¼ tsp garlic powder
¼ tsp sea salt
Instructions
Soup
1. In a heavy based pan, saute the onion, celery and carrots in a little water or broth.
2. Cook over a medium heat for 5 minutes.
3. Add the spices and garlic and a splash of water and cook for a further few minutes.
4. Add the lentils and chickpeas along with the broth. Mix well, then stir in the peanut butter, sweet potato and zucchini.
5. Bring to a boil, turn down to a low simmer and cover. Cook for 25 minutes.
6. Stir in the tamari or soy sauce and adjust seasonings to taste.
7. Serve topped with some walnut croutons (optional).
Walnut Croutons
1. Preheat oven to 275 degrees F.
2. Place the walnuts in a mixing bowl. Drizzle with tamari or soy sauce and stir to coat nuts.
3. In a separate bowl mix together all the other ingredients.
4. Sprinkle over the nuts and stir to combine.
5. Spread the nuts onto a parchment lined baking sheet and roast for 5-10 minutes or until crisp taking care that the nuts don't burn.
100% online, learn at your own pace
Instructor led format
No prerequisites
Continuing education credits