Spinach and Garbanzo Bean Soup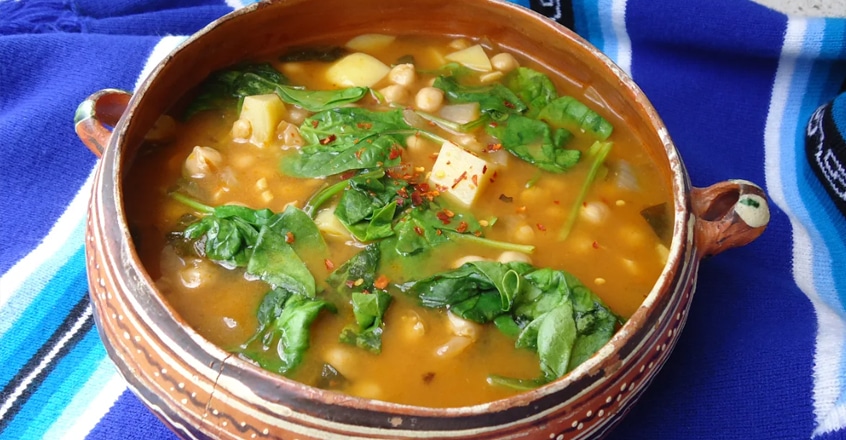 Garbanzos, also known as chickpeas, are originally from the Middle East and popular in Northern New Mexico where my family originates. They were brought to Mexico by the Spanish generations ago, and grandmothers have since incorporated them into many healing soups.
What You'll Need
---
1 ½ cup dried garbanzos (soaked overnight)
2 Yukon Gold potatoes, diced in 1" cubes
2 tsp dried Mexican oregano
1 – 2 small dried red chiles, crushed
1 tsp sea salt or to taste
How to Make It
---
GARBANZOS
1 Drain the soaked garbanzos and place them in a large saucepan with the head of garlic and bay leaves.
2 Cover with plenty of water and bring to a boil.
3 Reduce heat and simmer for 1 – 2 hours or until the beans are soft, but still firm to the bite, adding more water if necessary.
4 Remove the bay leaves and garlic, then drain.
SOUP
1 In a large soup pot sauté onion and garlic over medium heat.
2 Stir for a couple of minutes, then add cumin, Mexican oregano, smoked paprika, and chile, and cook for 30 seconds longer.
3 Add vegetable stock and water, turning up heat to bring to a simmer.
4 Add the garbanzos, diced potatoes, and sea salt.
5 Allow the flavors to marry and the potatoes to cook, about 25 minutes, adding more water if necessary.
6 Once the potatoes are cooked, add the spinach and lime juice.
7 Stir, taste, and add more seasoning as needed.
Cooking Tips
Serve with a crusty bread or tortillas of your choice.
Use chiles de arbol for the red chiles.
Copyright 2022 Center for Nutrition Studies. All rights reserved.