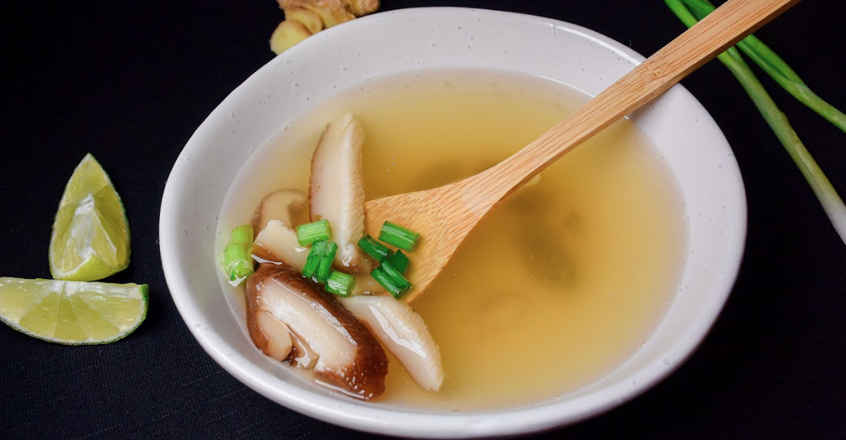 Ingredients
4-5 organic dried Shiitake mushrooms
2 Tbsp mellow white miso paste
½ medium yellow onion
2 small cloves of garlic
2-3 pinches of sea salt
1 tsp garlic powder
1 tsp Herbes de Provence
Instructions
1. Cut onion in half-moon shaped thin slices.
2. Sauté onions in 1 cup of boiling water until tender for 3-5 minutes on a medium heat.
3. As the water reduces, sprinkle a few pinches of salt onto onions and let them to sweat. Add minced garlic to onions and stir.
4. Stir in miso paste until onions and garlic are covered and mixed well with the paste, pressing miso into onions as you stir.
5. Add 3 cups of water while continuously stirring miso, onion and garlic together.
6. Once the miso is completely mixed with the liquid (no more lumps can be seen in the pot), slice or cut the the mushrooms into 1/4 inch slices and add them to the soup.
7. Stir in Herbs De Provence and garlic powder.
8. Cover and simmer on low heat for 15 minutes.
9. Pour into bowls and Enjoy!
Cooking Tips
1. Pour the soup over a half cup of cooked millet or any whole grain for a heartier meal
2. Add shredded raw Chinese cabbage to the soup mixture after adding the seasonings and cook in with the soup.
100% online, learn at your own pace
Instructor led format
No prerequisites
Continuing education credits