There's no denying that public interest in health and nutrition has grown considerably. But many are still unsure what makes up a whole food, plant-based diet (WFPB). Are you one of them? Do you ever feel steeped in competing information on topics like these? Well, you certainly aren't alone.
A WFPB diet doesn't include any meat, poultry, fish, dairy, or eggs. It's not, however, the same as a vegan diet, which is defined only by what it eliminates. A WFPB diet is defined also by what it emphasizes: a large variety of whole foods.
The term "whole" in WFPB describes foods that are minimally processed. This includes as many whole grains, fruits, vegetables, and legumes as you want. It also includes, in moderation: nuts, seeds, avocados, natural sweeteners, and certain soy or wheat products that don't contain added fat (e.g., tofu).
The term "whole" in WFPB describes foods that are minimally processed.
Heavily processed foods, on the other hand, are not included in a WFPB diet. This means avoiding highly refined grain products (e.g., white rice, white flour), foods containing added sugars or artificial sweeteners (e.g., confectioners sugar, high fructose corn syrup), and foods containing added fat. Yes, even olive oil.
And that's it, in less than 10 sentences. You need little else.
You don't need a calculator to count calories or carbs. There's no need to avoid cooked foods. Convenience isn't your enemy. You're allowed frozen fruits and vegetables, as well as their canned counterparts (just make sure to find low-sodium options). Blandness is not a prerequisite. You're encouraged to experiment with as many spices as you'd like. And finally, contrary to popular belief, a WFPB diet won't break your budget. Many of your trusty staples (think beans and potatoes) are among the most affordable foods in the grocery store. This diet doesn't require specialty items hidden in the health food section. It requires no pails of agave or carts of cashews.
Many eventually give up the "diet" label, in favor of "lifestyle." Perhaps that's because our popular notion of dieting has become so warped and confusing. It implies a struggle, frames each meal as a challenge to overcome. A WFPB lifestyle is different. It's not a short-term punishment charged by guilt. It's simply a return to whole foods, rich flavors, and natural health.
Go for green, use caution with orange and stay away from red.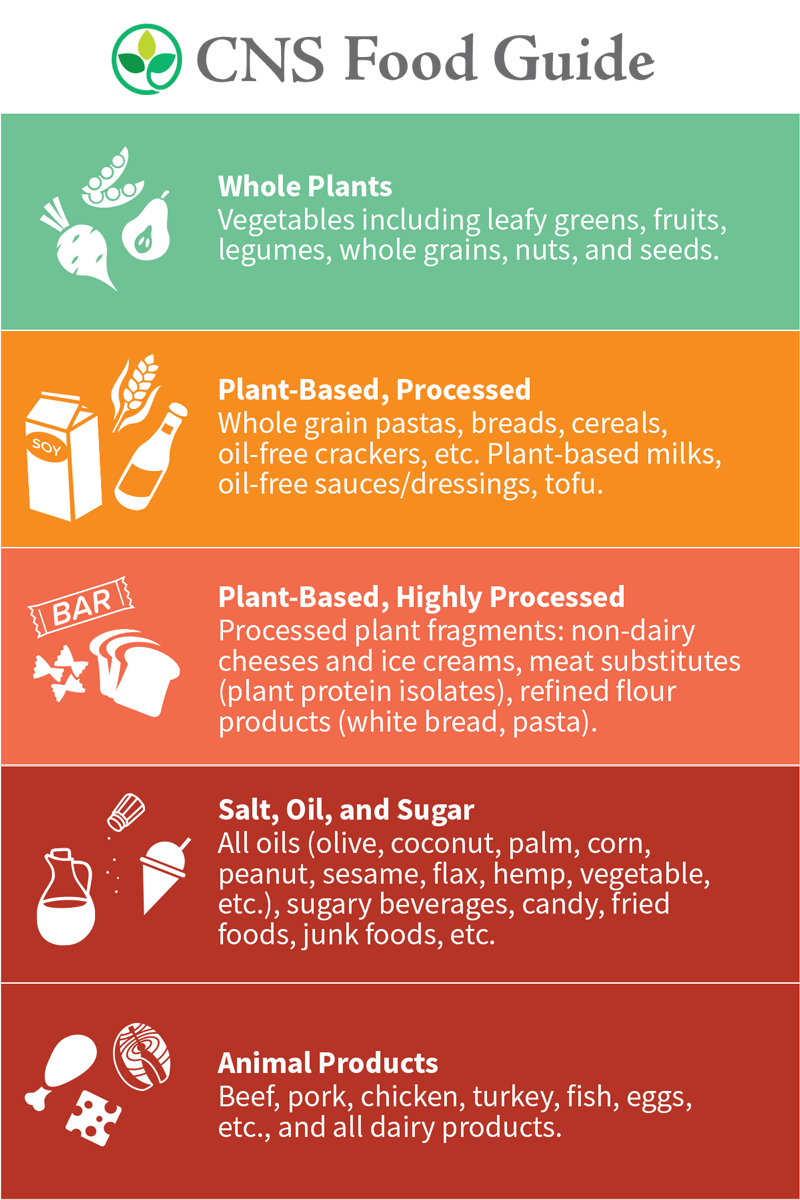 For a more comprehensive list of foods and explanation, check out our Whole Food, Plant-Based Diet Guide.
For inspiration, browse our expansive recipe list.
Copyright 2023 Center for Nutrition Studies. All rights reserved.