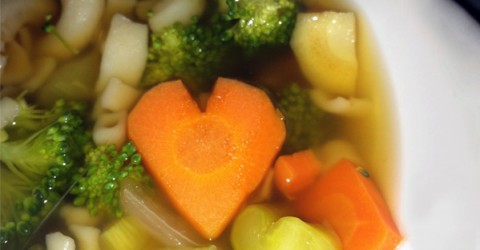 Ingredients:
3 medium heads broccoli (7 to 8 cups)
1 package of small rice noodles (12-ounce)
16 ounces firm tofu, cut in ¼ to ½ inch cubes
2 two-inch pieces of wakame or alaria seaweed
4 quarts water
¾ cup wheat-free or regular tamari
2 medium onions, diced small (~2½ cups)
4 tablespoons fresh ginger root, minced or finely grated
3 tablespoons mirin (rice cooking wine)
6 medium carrots, diced (~3 cups)
4 medium parsnips, diced (~2 cups)
Instructions:
Separate broccoli stems from tops. Remove tough outer layer from stems and cut stems into bite-sized pieces. Set aside.
Separate broccoli tops into bite-sized pieces and set aside.
Cook, strain and cool noodles. Set aside.
Sauté tofu in non-stick pan for 3 to 4 minutes. Add 4 teaspoons tamari and sauté another 3 to 4 minutes. Set aside.
Place wakame or alaria seaweed in 4 quarts of water and bring to a boil.
Lower heat to medium, add onions and cook for 10 minutes.
Remove sea vegetable and cut into small pieces, returning it to the pot.
Add ginger, remaining tamari and mirin.
Continue cooking on medium heat for 5 minutes.
Add carrots, parsnips and stems of broccoli. Cook for 2 minutes.
Gently stir in noodles and sautéed tofu. Cook for 1 minute.
Add broccoli tops. Simmer until broccoli is tender, about 2 or 3 minutes.
PREP
25 mins

COOK
20 mins

YIELD
20 servings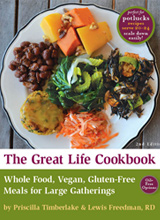 This recipe is from The Great Life Cookbook: Whole Food, Vegan, Gluten-Free Meals for Large Gatherings by Priscilla Timberlake and Lewis Freedman. Lewis is an instructor for the CNS Plant-Based Nutrition Program. The Great Life Cookbook is printed on 100% recycled paper and has just been released as an ebook, where you can download by the season or the complete book.