The following is an article from a Community Grant recipient.
In May 2020, I was out for a walk with my dog in lovely Galena, Illinois, listening to one of my vegan-friendly health podcasts, the topic of which was regenerative farming and the importance of local, organic food. Afterward, when I posted on Facebook, "Wouldn't it be nice if the food produced in Jo Daviess County fed the people in Jo Daviess County?" my friend Jen shared the link for Jo Daviess Local Foods (JDLF) and replied, "We're trying!!"
JDLF is an online farmers market that delivers local food throughout Jo Daviess County, Illinois. Its mission is to expand access to sustainable local food for the benefit of the community, economy, and environment. Founded in 2018 with eight producers, it has since grown to include 28 producers. As the only farmers market in the county that operates every week, year-round, it offers a very important service to our community, connecting people with a wide variety of food and locally made products.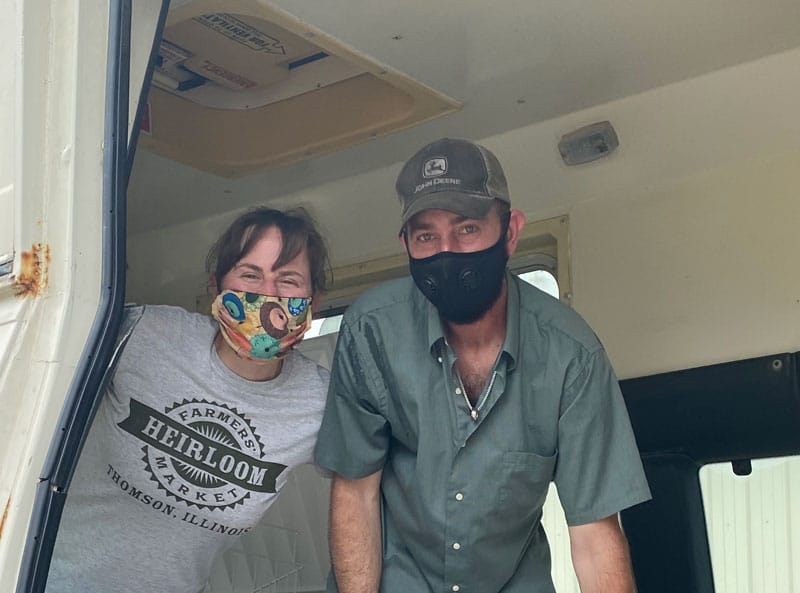 JDLF only accepts farmers who use environmentally friendly practices. They limit packaging waste whenever possible, using upcycled "t-shirt bags" and granting shopping credits to customers who return glass jars or bottles so that producers can wash and reuse them. Of course, by strengthening local food systems, they also reduce the need for long-distance shipping, thus reducing the carbon footprint.
Discovering JDLF from my friend Jen was a moment of great serendipity for me, and I wanted to get involved. She introduced me to Erin Keyser, the local food maven and organizational queen behind JDLF, and soon after that I was volunteering to sort veggies every Tuesday and to promote the market on social media, posting photos of my plant-based meals made with local, organic produce.
JDLF has been especially important for producer income and consumer convenience during the pandemic. Orders have tripled in recent months! Still, there are more possibilities for us to increase our positive impact. As much as I've enjoyed volunteering, and my family has enjoyed the delicious local vegetables and fruit, I couldn't help but think about what was missing—or rather who was missing out: what about the folks in the area who don't have the means to participate?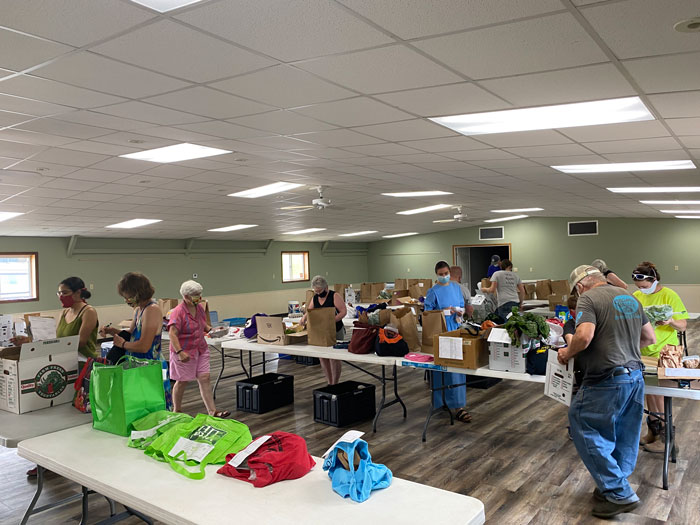 Around the same time, after earning my Plant-Based Nutrition Certificate from the T. Colin Campbell Center for Nutrition Studies (CNS) and eCornell, I learned about the CNS Community Grant initiative. Another moment of serendipity! We applied for a grant to fund a Farm to Food Pantry program, which, with Erin's spirit and drive, we were able to pilot in December 2020. JDLF customers generously donated about $1500, which paid local farmers for over 1300 pounds of fresh produce. The produce went to five different food pantries in the county, benefiting more than 100 local families.
Everyone should have access to food that produces health instead of food that produces sickness. Individuals and families struggling to make ends meet should not have to settle for a cheap, sugar-filled, nutrient-deficient "fruit" cup over a fresh, nutrient-dense watermelon grown on their neighborhood farm.
With the help of grassroots local support and the grant money from CNS, JDLF will be able to continue the Farm to Food Pantry program during the summer and fall of 2021. We will select one or two food pantries per week and deliver at least $200 of fresh local organic produce and grains. We believe everyone should have access to the foods that produce health and reverse illness. Individuals and families struggling to make ends meet should not have to settle for cheap, sugary, nutrient-deficient "fruit" cups when their community has the will and ability to provide fresh, nutrient-dense watermelon grown sustainably on their neighborhood farm.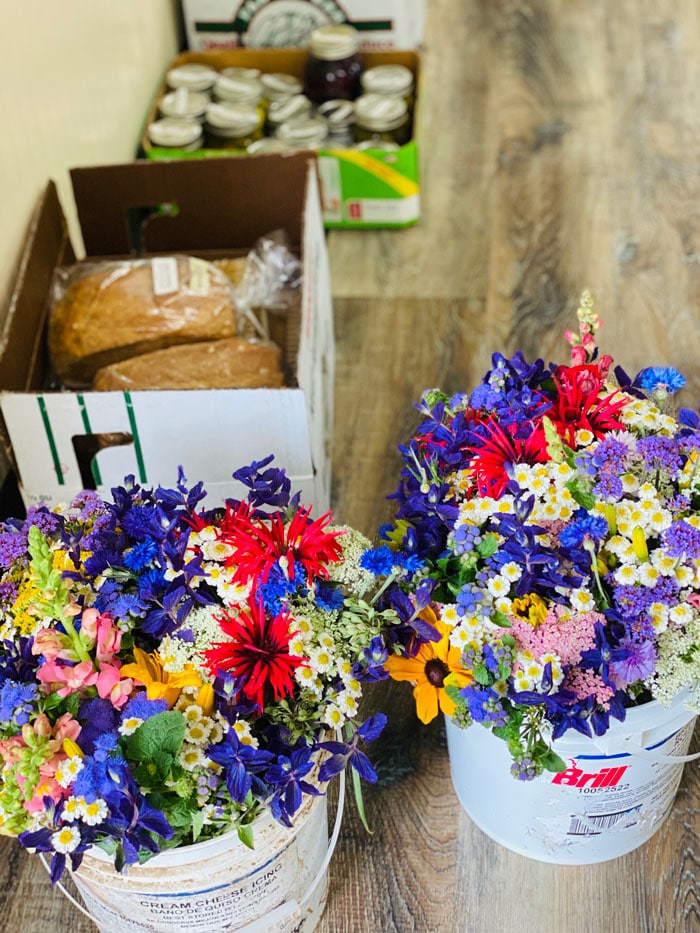 Practical education is also vital to making this program sustainable. That's why, along with each week's produce selections, we will include cooking directions and easy whole food, plant-based recipes. We also plan to host cooking classes that double as soup kitchens in the fall, teaching the community how to make delicious plant-based food that is healthy for both people and the environment.
Ultimately, the Farm to Food Pantry project helps us expand our reach into lower income communities while continuing to champion local farmers who are committed to sustainable, organic methods. We're excited to nurture its continued growth!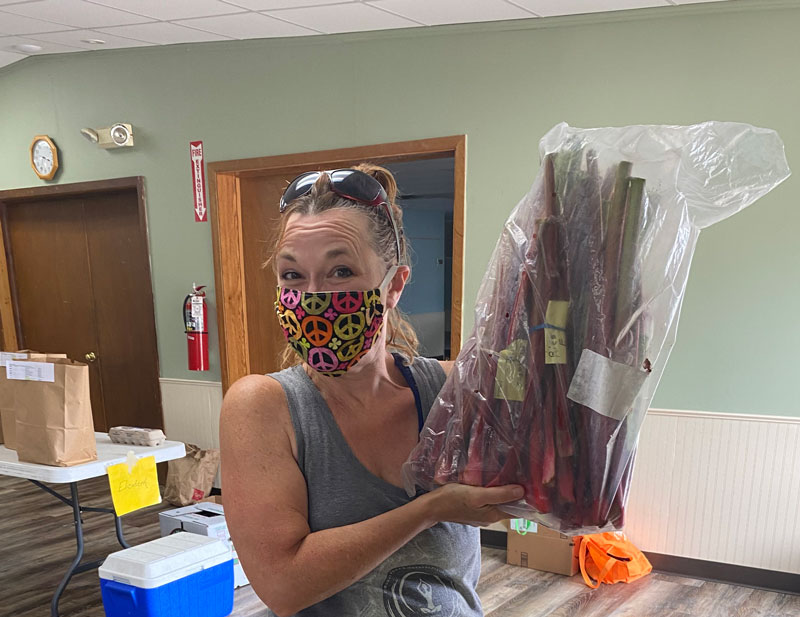 The T. Colin Campbell Center for Nutrition Studies (CNS) is committed to increasing awareness of the extraordinary impact that food has on the health of our bodies, our communities, and our planet. In support of this commitment, CNS has created a Community Grant initiative to empower sustainable food-based initiatives around the world by providing grants to enable innovative start-ups and to propel the growth of existing initiatives. Please consider making a donation to this great cause. 100% of your donation will go to support initiatives like the one you just read about in this article.
Copyright 2023 Center for Nutrition Studies. All rights reserved.