People often say cheese is the hardest thing they had to give up when adopting a whole food, plant-based (WFPB) diet, but for me, it was oil. I had to be convinced that I could make food taste good without oil, and after much experimentation, I saw the light. The question then became, "How do you replace the oil?" Thankfully, there are many choices, and each has its pluses and minuses.
I have several salad dressing recipes that vary in their ingredients depending on the season and my mood. Variety makes my health journey easier, and having a dressing that I like gets me to eat more of nature's best foods—vegetables. Here are some of my favorite ways to replace oil in most traditional salad dressing recipes.
Water and arrowroot powder. This foolproof technique has been around for a long time: combine 1 cup of water with 1 tablespoon of arrowroot powder in a small saucepan over medium heat, and cook until thickened. The arrowroot powder has a very neutral flavor, so it doesn't affect the flavor of the dressing, only the consistency. Just make sure to let it cool before adding it to your salad dressing.
Silken tofu. I have made many salad dressings using silken tofu. It is creamy right out of the box. Use 1 cup of tofu for every cup of oil called for in the recipe. The biggest downside to using silken tofu is that its flavor can affect the taste of the dressing, especially if you have a mild-flavored recipe.
Unsweetened applesauce. This is my latest and favorite substitute for oil in a salad dressing. I have used it as an oil substitute in baking for years, but until recently, I never thought of using it for a salad dressing. It works especially well when you process it in a blender because blending activates the pectin in the fruit, which in turn acts as a thickener. Also, the applesauce barely adds a flavor to the dressing, so it works well in dressings with a mild flavor. If you don't have applesauce around, you can also use a peeled, cored, and chopped apple. Add it to the blender with the remaining ingredients and process it until smooth.
Flax seeds. Flax seeds are great emulsifiers in salad dressings, plus you get the added bonus of all that omega-3 action in your diet. To add it to your dressing, grind the flaxseeds in a spice mill before adding them to the water or whatever liquid you are using to make your dressing. Never keep ground flaxseed around. It goes bad quickly when stored that way.
Nuts or seeds. Nuts and seeds such as sunflower seeds add great heft to salad dressings. Most recipes suggest soaking them first and using them raw in your dressing so that they will add minimal flavor, but I prefer toasting my nuts and seeds, as toasting gives an extra burst of flavor to any recipe. I do, however, purchase my nuts and seeds raw for two reasons: 1) they keep longer, and 2) it keeps me from snacking on them mindlessly. To use nuts and seeds in your recipe, you will need ¼ cup for most recipes calling for 1½ cups of liquid. You can adjust the quantity to your taste.
Avocado. Avocado is a popular emulsifier in salad dressings in part because it adds creaminess, and also, who doesn't like avocado? There are two reasons I don't use it more often: 1) it is so high in fat, and 2) I never know when my avocado is going to be perfectly ripe for a recipe (of course, you can freeze them when they are ripe and thaw them in the refrigerator before using them, but that requires thinking ahead). To use it in a recipe, you can substitute half as much avocado as the amount of oil that's called for. And, of course, you need to process it in a blender or food processor to make it creamy. Replace the other half of the oil with some other liquid like water.
Tahini and nut butters. Nut and seed butters are great in oil-free salad dressings because they are natural emulsifiers, and they easily make a creamy dressing. But, they also add a lot of fat to a dressing, so use them sparingly. Luckily, you only need a few tablespoons of any nut or seed butter to thicken a dressing.
Beans. Beans are one of my favorite thickeners for salad dressing, especially when I want a creamy dressing. I like milder beans (navy, cannellini, Great Northern, or garbanzo beans), and I usually replace the oil 1 for 1 with the beans.
Hummus. You could add hummus to the bean category, but it is a popular, versatile salad dressing all by itself. You could add curry spices or fresh or dried herbs to it. Yum!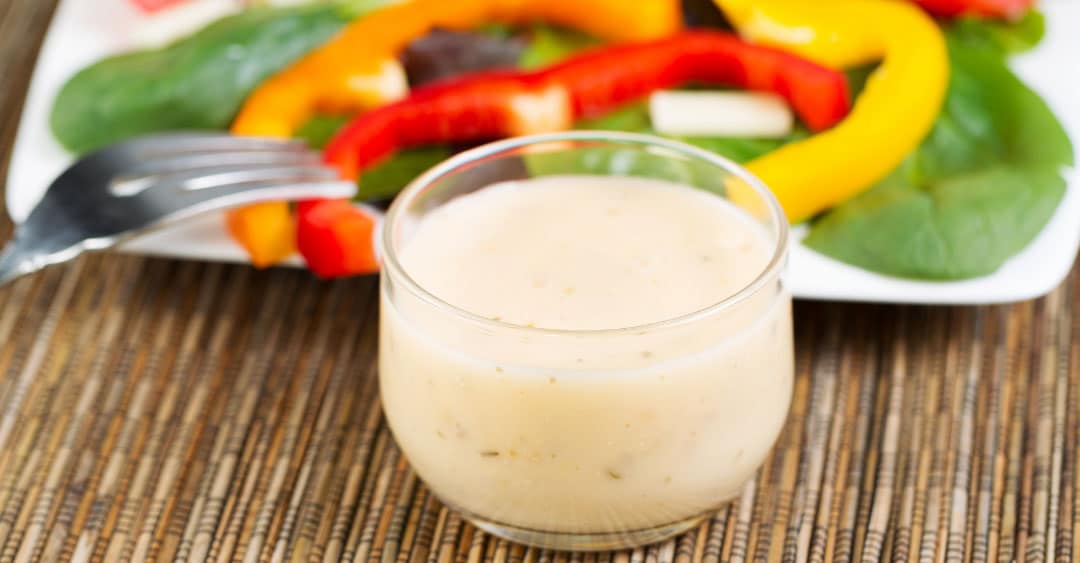 From the upcoming cookbook Table For One, by Del Sroufe
I like this dressing on freshly steamed vegetables as much as I do on salad greens. It is full of flavor without being overwhelming.
Creamy Fresh Herb Dressing
Makes about 2 cups
¼ cup fresh spinach leaves
1 green onion, chopped
1 Tbsp minced shallot
1½ cups cooked navy beans (or whatever white bean you have on hand)
¼ cup watercress, leaves only
¼ cup parsley, leaves only
1 Tbsp fresh tarragon
2 Tbsp fresh chives
½–1 cup water, as needed
Directions
Bring 1 cup of water to a boil in a small saucepan. Add the spinach, green onion, and shallot, and boil for 2 minutes.
Strain the vegetables in a colander, then run cold water over them to stop their cooking. Pat them dry.
Add the greens to a food processor with the remaining ingredients, and puree until smooth and creamy.
Store refrigerated in an airtight container for up to seven days.
Copyright 2023 Center for Nutrition Studies. All rights reserved.