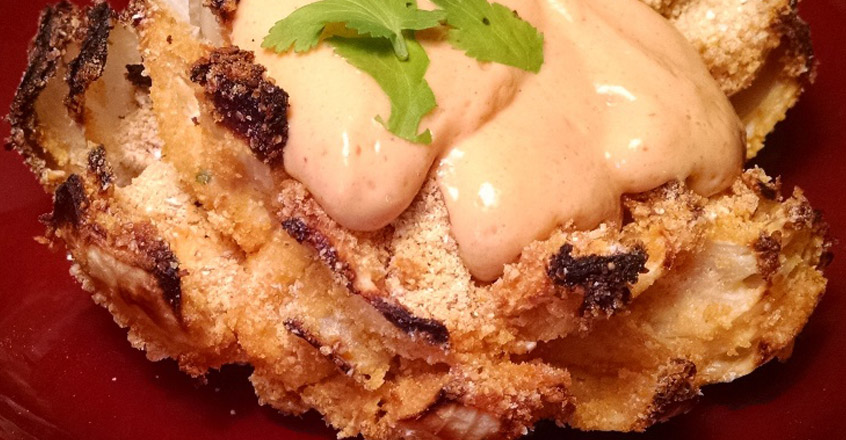 What You'll Need
---
BAKED BLOOMING ONION INGREDIENTS
1 large onion Vidalia or yellow onion
½ cup low-fat eggless mayo (recipe below)
¾ cup breadcrumbs I used Kellog's Corn Flakes Bread Crumbs
¼ cup whole grain flour (gluten-free flour if needed)
LOW-FAT MAYO INGREDIENTS
1 package tofu firm or silken works well
1 Tbsp sweetener, I use sucanat
1 Tbsp lemon juice or red wine vinegar
How to Make It
---
BAKED BLOOMING ONION PREPARATION
1 Preheat oven to 400 degrees F and line a baking sheet with parchment paper.
2 Cut about ½-inch off the bottom of the onion and peel the skin off.
3 Place the onion cut-side down. Starting ½-inch from the top, make a downward cut all the way through to the board. Repeat to make four evenly spaced cuts around the onion. Continue slicing between each section until you have 16 evenly spaced cuts.
4 Turn the onion over and use your fingers to gently separate the outer pieces. I have been told that if you soak a cut onion in cold water overnight, it will open up on its own. I would just have trouble thinking that far ahead.
5 In a medium bowl add flour, bread crumbs, onion powder, garlic powder, smoked paprika, and salt. Whisk the dry ingredients to mix. Set to the side.
6 Hold sliced onion in your hand as you spoon mayo on top and begin to rub into onion. Make sure to get in between the petals as well. Coat well, even on the outside.
7 Place mayo-coated onion in bowl with dry ingredients.
8 Place a plate over the top of the bowl and GENTLY rock around to coat the onion. Use a spoon to sprinkle more inside petals, if necessary.
9 Place breaded onion on baking pan with parchment paper.
10 Cover with ovenproof bowl. If you are making more than one onion, use a large rectangle baking dish to act as a tent over all of them at the same time. Bake at 400 degrees F for 10 minutes covered with oven bowl.
11 Remove bowl (or baking pan/dish) and bake an additional 30 minutes.
LOW-FAT MAYO PREPARATION
1 Remove water and drain tofu. I do this by setting it on a pile of paper towel, then squeezing out extra water. Place the tofu into a blender. Add the rest of the ingredients and Purée until smooth and creamy. This is terrific on sandwiches, wraps, and in sauces. Recipe makes about 1 pint. Keeps in the refrigerator for about 2 weeks.
Copyright 2022 Center for Nutrition Studies. All rights reserved.