Cucumber and Kale Open-faced Sandwich
Total: 5 minutes
Prep: 5 minutes
Yield: 2 servings
The layer of kale and mustard together in this sandwich is delicious, particularly when you use a great mustard.
Preparation
Spread the toasted bread generously with hummus. Sprinkle the green onion, cilantro, and kale evenly over the hummus.
Slice the cucumber into 8 rounds and spread each round with a thin layer of mustard.
Place the cucumber rounds, mustard-side down, on top of the cilantro-kale layer and press down, if necessary, so they stay in place.
Sprinkle the open-faced sandwich generously with lemon pepper, cut in half or quarters, if desired, and serve.
Note
We love True Natural Taste Sweet and Spicy Creamy White Mustard, available at truenaturaltaste.com.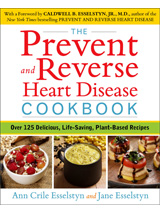 Reprinted from The Prevent and Reverse Heart Disease Cookbook by arrangement with Avery Books, a member of Penguin Group (USA) LLC, A Penguin Random House Company. Copyright © 2014, Ann Crile Esselstyn and Jane Esselstyn.