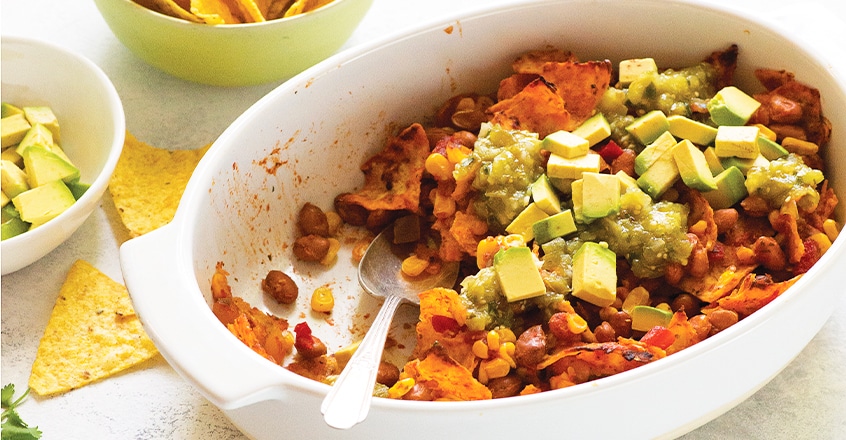 The tomatillo sauce gives everything a bright, slightly acidic flavor—a perfect match for the crunch of the chips!
Reprinted from The China Study Cookbook (BenBellaBooks, 2018)
What You'll Need
---
3 cups crumbled baked corn tortilla chips
2 cups cooked or canned pinto beans, drained
Diced avocados, for garnish
How to Make It
---
1 Preheat oven to 350 degrees F.
2 In a mixing bowl, combine crumbled tortilla chips, salsa, corn, and beans. Mix well. Spread to cover the bottom of a 9 × 13-inch nonstick baking dish. Cover with aluminum foil and bake for 30 minutes.
3 Remove the tortilla bake from the oven and let cool for 15 minutes. Drizzle with tomatillo sauce and top with avocado.
Cooking Tips
It's fine to use store-bought baked tortilla chips for this recipe,but I often make my own. I place 8 lightly salted corn tortillas on a baking sheet and bake at 350° for 5-8 minutes. Since they are easy to burn, I check them often. Once they are hard and crunchy, I let them cool for 10 minutes before crumbling them
Copyright 2022 Center for Nutrition Studies. All rights reserved.