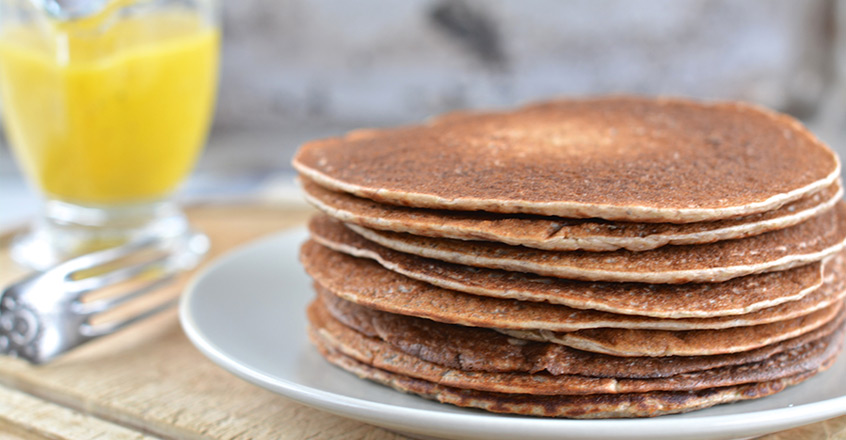 Ingredients
1 cup buckwheat groats
1 cup water + water for soaking
1 ripe banana
2 Tbsp ground flax seeds
2 Tbsp unsweetened applesauce
2 tsp cinnamon
1 tsp turmeric (optional)
a pinch of salt
1 cup unsweetened oat milk
Instructions
Soaking
1. Soak the buckwheat for at least 6 hours. Place thoroughly rinsed and drained groats with 1 cup of water into blender and blend until smooth.
Fermenting
1. Place batter into a plastic or ceramic bowl (big enough to mix the pancake batter later), cover with clean kitchen cloth and place into a warm (86 degrees F, 30 degrees C) oven for at least 7 hours. A metal bowl will interfere with the fermenting process. It's ready when the batter has risen and you see small bubbles.
Mixing the Batter
1. Smash the banana with fork or blend with an immersion blender and add it to the batter with applesauce, ground flax seeds, cinnamon, turmeric and sea salt. Mix thoroughly and carefully with wooden spoon. Don't be too hasty, as you will lose the fluffiness of the batter.
2. Gradually add oat milk and mix well. Let the batter sit for 5 minutes.
Baking the Pancakes
1. Take a non-stick pan (it's best to have a separate pan for pancakes to avoid any sticking). Put a bit of coconut or olive oil on the pan and rub it with folded kitchen paper until all the excess oil is absorbed into paper. Use the same paper to clean the pan between pancakes.
Cooking Tips
1. The best timing to be able to bake the pancakes in the morning is to put the groats to soak in the morning or afternoon the day before, and blend the batter and let it ferment overnight in the oven. In the morning when you wake up, just take it out of the oven and get going.
100% online, learn at your own pace
Instructor led format
No prerequisites
Continuing education credits