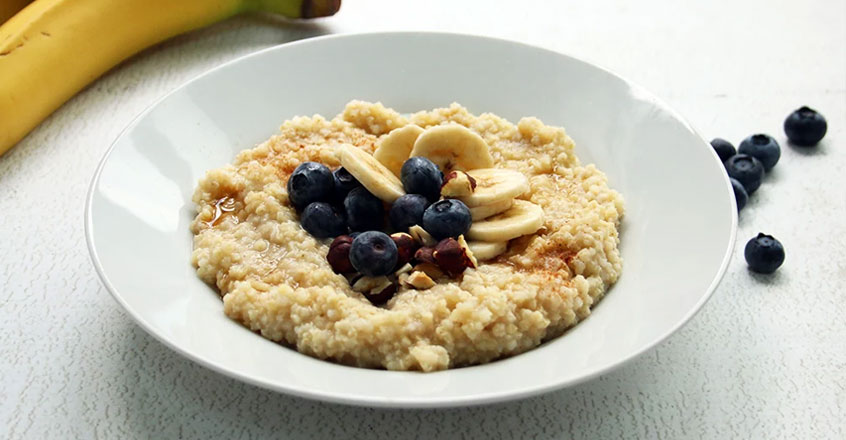 Ingredients
½ cup uncooked millet
1 tsp cinnamon, plus extra to sprinkle
1 tsp vanilla extract
2 bananas
¼ cup blueberries
2 Tbsp hazelnuts, roughly chopped
1 Tbsp pure maple syrup (optional)
Instructions
1. To cook the millet, place in a saucepan along with 1½ cups water and bring to a boil. Once the water is boiling, reduce to a simmer and partially cover with the lid. Gently stir every now and then, but not too much, only to ensure it doesn't stick to the bottom.
2. The mixture will thicken gradually, but you will need to test a small amount to see if you are happy with the texture. Since this is porridge, you want to cook it until it has sufficiently softened and there are no crunchy bits. If necessary, add another ½ cup water and continue to cook until the millet is soft. Once you are happy with the texture, stir in the cinnamon and vanilla extract, remove from the heat, and place the lid on.
3. In the meantime, peel the bananas. Slice one of the bananas and set aside to garnish. Mash the second one in a bowl using the back of a fork until it is a smooth pulp.
4. When the porridge has finished cooking, stir in the mashed banana. This creates a lovely creamy texture. Divide the porridge between two bowls. Sprinkle each with cinnamon and maple syrup if desired.
5. Top with the sliced bananas, blueberries, and chopped hazelnuts, then enjoy!
100% online, learn at your own pace
Instructor led format
No prerequisites
Continuing education credits