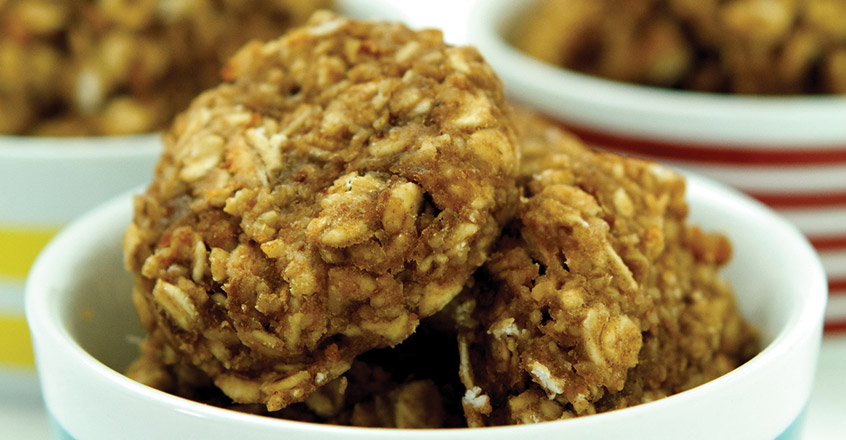 Ingredients
10 Medjool dates, pitted
1 ripe banana (overripe is fine)
½ cup peanut butter
¼ cup unsweetened applesauce
1 tsp vanilla extract
2½ cups quick-cooking or rolled oats
¼ cups whole wheat pastry flour
¼ tsp baking powder
Instructions
1. Preheat the oven to 350°F.
2. Add the dates to a small pan with enough water to cover and cook for 5 minutes over medium heat. Then purée the mixture in a food processor until smooth and creamy.
3. Add the banana, peanut butter, applesauce, and vanilla to the food processor and purée until smooth and creamy.
4. Transfer the peanut butter–banana mixture to a bowl and add the remaining ingredients, stirring until just combined.
5. Using a small ice cream scoop or tablespoon, drop spoonfuls of dough onto a parchment-lined, silicone-lined, or nonstick baking sheet.
6. Bake large cookies for about 15 minutes. Bake small cookies for about 12 minutes. The cookies should be lightly browned on top.
7. Let the cookies sit for about 10 minutes before removing them from the baking sheet; they will be easier to remove. Move the cookies to a wire rack to cool completely.
100% online, learn at your own pace
Instructor led format
No prerequisites
Continuing education credits