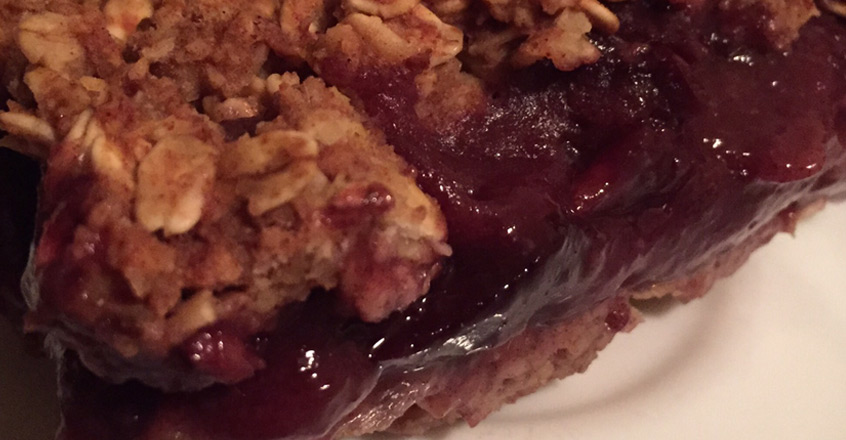 CRUST INGREDIENTS
¾ cup oat flour (grind rolled oats in a coffee grinder)
FILLING INGREDIENTS
2 cups frozen blueberries
10 medium-large dates, pitted
2 ½ Tbsp arrowroot or potato starch
TOP LAYER INGREDIENTS
CRUST PREPARATION
1 Preheat oven to 350 degrees F and line an 8×8 baking dish with parchment paper.
2 Combine oat flour, oats, flaxseed meal, baking powder and salt.
3 Add water and molasses. Mix well and pour in dish on top of parchment paper.
4 Mixture will set and stiffen a little while you prep the rest of the dish.
FILLING PREPARATION
1 Soak dates in 1 cup hot water for at least 1 hour to soften.
2 Purée dates with 1/2 cup of soaking water in a food processor or blender. Save remaining date water.
3 Take ⅔ of the date puré and mix with the berries and vanilla.
4 Place in saucepan and heat over medium heat.
5 Add starch to 2 tbsp water and mix until smooth.
6 Add starch mixture to berry mixture and increase heat so a gentle boil begins. Cook for another 2 minutes stirring often. The starch will begin to thicken the mixture. Turn off heat after 2 minutes.
7 Pour blueberries on top of bottom layer in baking dish.
TOP LAYER PREPARATION
1 Combine rolled oats with flour, remaining date purée, cinnamon, salt and remaining date water. Add more water if all oat flakes aren't moist.
2 Spread oat mixture on top of berry mixture and bake for 30 minutes.
3 Refrigerate at least 1 hour after cooling to set the filling. Eat room temp or cold.
Copyright 2020 Center for Nutrition Studies. All rights reserved.