Raw Apple-Cinnamon Breakfast Parfait With Cinnamon Soft-Serve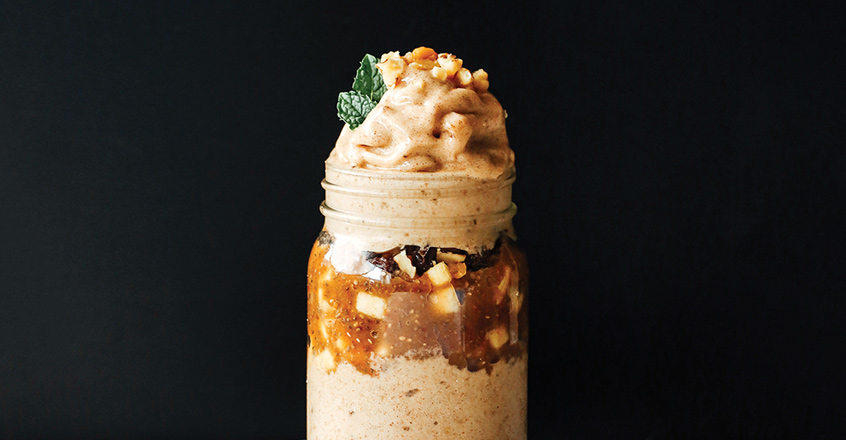 RAW APPLE-CINNAMON + CHIA LAYER
3 small apples (Honeycrisp, Pink Lady, or other crisp red)
3-5 Medjool dates, pitted (see tips)
CINNAMON SOFT-SERVE INGREDIENTS
2 large, ripe bananas, peeled, sliced, and frozen
Unsweetened almond milk, as needed
OPTIONAL TOPPINGS
RAW APPLE-CINNAMON + CHIA LAYER PREPARATION
1 Finely dice 1 of the apples and add it to an airtight container.
2 Cut the 2 remaining apples into large pieces and add them to a food processor along with the dates, cinnamon, and nutmeg. Pulse the mixture several times and then process for 2–3 minutes, or until the mixture resembles applesauce, stopping to scrape down the sides as needed.
3 Transfer to the container with the finely diced apple and stir in the chia seeds. It's best to refrigerate this for 1–2 hours to allow the chia seeds to work their thickening magic; however, in a pinch, you can skip the chill time and move straight to the next step.
CINNAMON SOFT-SERVE PREPARATION
1 Add the frozen bananas and the cinnamon to a food processor and process until smooth and creamy. If needed, add a bit of unsweetened almond milk, 1 tablespoon at a time, to encourage the bananas to blend, adding as little as possible to maintain a thick soft-serve texture. Be careful not to add too much liquid or you'll end up with a cinnamon smoothie instead of cinnamon soft-serve.
TO ASSEMBLE
1 In 2 medium jars or glasses, layer the soft-serve and apple-cinnamon chia mixture, one after the other, garnishing the layers with toppings as you go, if desired. Serve immediately.
Cooking Tips
Firm Dates? No Problem. If your dates are firm, as opposed to soft and gooey, soak them in warm water for 30 minutes before processing.
Copyright 2019 Center for Nutrition Studies. All rights reserved.