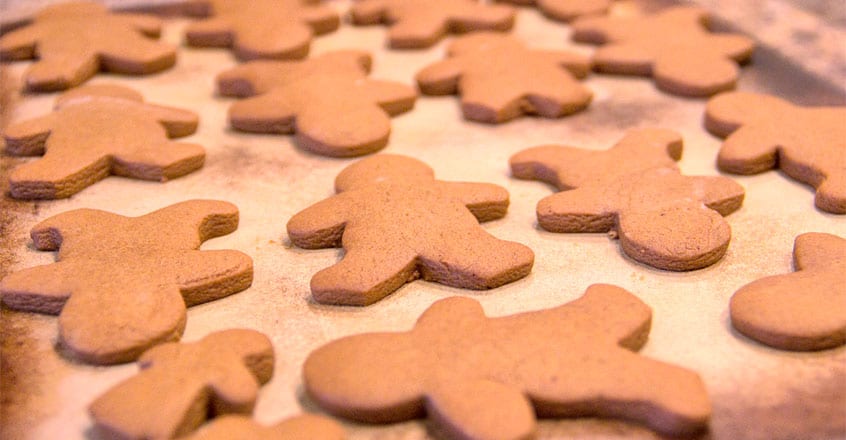 Ingredients
3 cups all purpose white whole wheat flour
1 tsp allspice
2 tsp ginger
1 tsp cloves
2 tsp cinnamon
1 tsp baking soda
¼ tsp sea salt
2 Tbsp applesauce
¼ cup date sugar
¼ cup dark molasses
½ cup date paste
1 flax egg
¼ cup cold water
1 tsp vanilla
1-2 Tbsp cold water
Instructions
1. Preheat oven to 350 degrees F.
2. Mix together dry ingredients. Set aside.
3. Mix the applesauce, date sugar, date paste, molasses, and flax egg together.
4. Stir in ¼ cup cold water and vanilla.
5. Add the dry ingredients to the bowl containing the wet ingredients and mix well. Add cold water (1-2 Tbsp) until dough holds together.
6. Roll out dough into a ¼ inch thick layer. (See cooking tips).
7. Cut out shapes with a cookie cutter and transfer to a parchment-lined baking sheet.
8. Bake 15 minutes. Allow to cool.
Cooking Tips
1. To avoid having trouble rolling out the dough since it is a little sticky, place a sheet of plastic wrap on the rolling surface and another sheet around the rolling pin and roll it out that way.
2. To make the flax egg, whisk together 1 Tbsp of ground flax seeds and 2 ½ Tbsp of water. Set aside in refrigerator for 10 min before using.
3. To make this recipe gluten-free, substitute a gluten-free flour for the white whole wheat flour.
4. You can make your own date paste at home using this recipe.
100% online, learn at your own pace
Instructor led format
No prerequisites
Continuing education credits