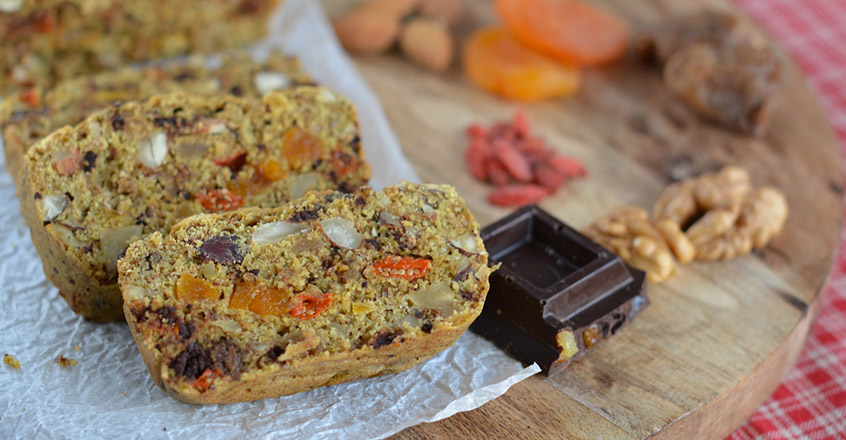 Ingredients
Batter Mix
½ cup buckwheat groats
½ cup millet
⅓ cup unsweetened oat milk
1 ripe banana
1 Tbsp peanut butter
Pinch of sea salt
½ tsp turmeric
½-1 tsp gingerbread spice
2 Tbsp baking powder
Mix into Blended Batter
¼ cup hazelnuts, chopped
¼ cup almonds, chopped
¼ cup walnuts, chopped
¼ cup dried apricots, chopped
¼ cup raisins, soaked in rum (optional)
5 dried figs, chopped
⅛ cup dried goji berries
2 Tbsp grated orange peel
¼ cup dark chocolate, chopped
Instructions
1. Soak millet and buckwheat overnight (or all day) in water in separate bowls. Wash and drain.
2. Soak raisins overnight in rum. You can discard the soaking liquid afterwards.
3. Chop the nuts, dried fruit and chocolate into small pieces.
4. Heat oven to 350 degrees F (175° C) and line a loaf tin with parchment paper.
5. Put all ingredients in the Batter Mix except baking powder in a blender and blend until smooth batter is formed. Don't worry; it's supposed to be fairly liquid as millet swells quite significantly.
6. Stir in baking powder.
7. Finally mix in (DON'T BLEND) chopped nuts, dried fruits and chocolate.
8. Pour the batter into the loaf tin and bake for 40-45 minutes until your Christmas cake is golden.
9. Let it cool before slicing and serving. If you leave it on the counter, cover with clean kitchen cloth or with foil (loosely) to keep the cake moist.
Cooking Tips
1. If you want to bake the cake in the evening, put the grains to soak in the morning.
2. If you want to bake the cake in the morning, put the grains to soak the evening before.
3. If you have leftovers, cut it into thick slices and store in freezer. Heat up in the oven whenever needed.
100% online, learn at your own pace
Instructor led format
No prerequisites
Continuing education credits