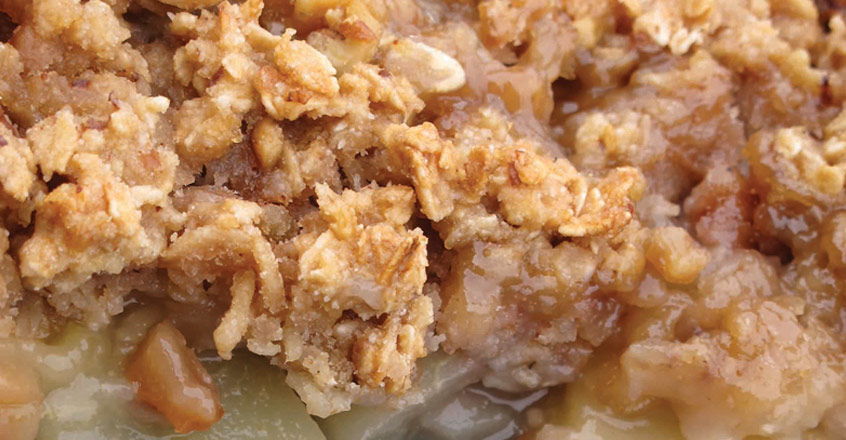 Ingredients
Filling
1 cup dried pears
2 cups pear juice
14-16 large pears (Bosc or Bartlett)
1 cup brown rice syrup
Pinch of nutmeg
Pinch of sea salt
3 Tbsp arrowroot dissolved in ½ cup of the pear juice
Topping
1⅓ cups raw walnuts
5 cups gluten-free or regular rolled oats
2 cups brown rice flour
1 tsp sea salt
Pinch of cloves
½ tsp dried ginger
½ tsp maple sugar
1 cup brown rice syrup
¾ cup applesauce, unsweetened
½ cup pure maple syrup
1 Tbsp vanilla
Vanilla Sauce
1 quart unsweetened vanilla soy milk
1 cup brown rice syrup
¼ cup pure maple syrup
2 vanilla beans (or 2 teaspoons vanilla extract)
Pinch of sea salt
6 Tbsp kuzu (or 4 tablespoons arrowroot)
6 Tbsp of water
Instructions
Filling
1. Soak dried pears in 1½ cups pear juice for 10 minutes.
2. Remove the pears from the juice, setting the juice aside.
3. Chop dried pears into small ¼ inch pieces.
4. Peel, core and slice fresh pears into long thin wedges.
5. In baking pan, mix sliced pears, juice saved from soaking pears, chopped pears, brown rice syrup, nutmeg and sea salt.
6. Bake 15 minutes at 350 degrees F.
7. Remove from heat and fold in arrowroot mixture.
Topping
1. Toast walnuts in pan on stovetop, or in oven, until fragrant. Be mindful not to let walnuts burn. Chop coarsely. Set aside.
2. In a large bowl, mix together oats, rice flour, sea salt, walnuts, spices and maple sugar.
3. Whisk rice syrup, applesauce, maple syrup and vanilla together.
4. Pour wet ingredients into dry and mix thoroughly.
5. Crumble oat topping mixture over baked pears.
6. Bake at 350 degrees F, covered for 40 minutes.
7. Uncover and bake 20 minutes more.
Vanilla Sauce
1. Slice vanilla beans in half and place in small pot with soymilk.
2. Add all ingredients except kuzu and water.
3. Bring to slightly less than a boil, reduce heat, and simmer for 15 minutes.
4. Strain out the pods of vanilla.
5. Thoroughly dissolve kuzu in 6 tablespoons of water and add to pot. Stir until the texture changes and the cloudiness clears. Turn off heat. Do not boil.
6. Drizzle sauce on pear crisp when serving.
100% online, learn at your own pace
Instructor led format
No prerequisites
Continuing education credits