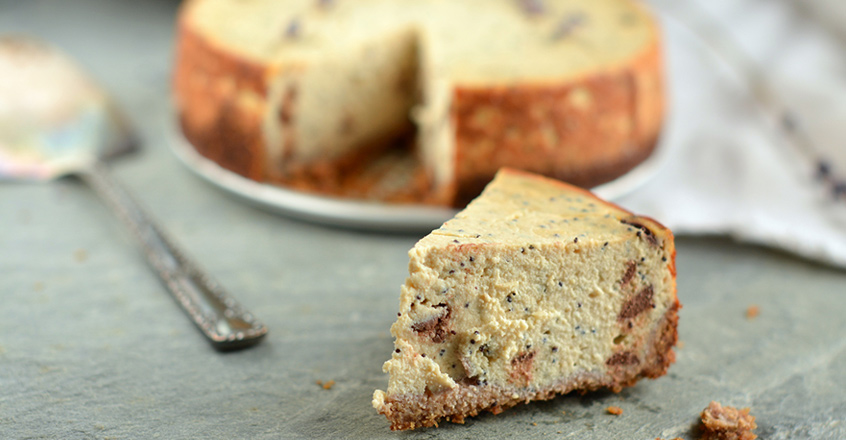 Ingredients
Crust Ingredients
½ cup walnuts, soaked
⅓ cup oat bran
pinch of salt
3 pitted dates
Filling Ingredients
2 packages firm tofu
4 Tbsp lemon juice
2/3 cup plant-based milk
pinch of salt
1 Tbsp ground flax or chia seeds
½ tsp vanilla extract
3 Tbsp maple syrup
1 Tbsp poppy seeds (optional)
2 Tbsp vegan dark chocolate (optional)
Instructions
1. Soak walnuts for 4 hours.
2. Combine soaked nuts, salt and oat bran in food processor and process until fine crumbs and the ingredients start to stick together. Add dates and process again until everything is well combined and the batter sticks together when pressed between fingers.
3. Line a 6-inch springform cake tin with parchment paper. Press the crust into tin with your hands (wet your hands if it sticks) and bake in 375 degrees F (190 degrees C) oven for 10 minutes. Remove from oven and set aside.
4. While the crust is baking, cut the tofu into small cubes and combine all filling ingredients (except poppy seeds and chocolate) in a blender. Process until a silky batter forms. Taste and add more of sweetener, if you feel like it is not sweet enough for you.
5. Mix in poppy seeds and chocolate.
6. Pour the filling into crust and bake at 350 degrees F (175 degrees C) for 45-50 minutes until the cake starts to turn golden.
7. Let cool completely. Ideally it should be refrigerated for a couple of hours.
Cooking Tips
1. If you don't have time to soak the walnuts, add 1-2 Tbsp of non-dairy milk or water for moistness.
2. Use more dates if you want a sweeter filling
3. Prepare a sauce to go with the cake – fruit puree (mango, strawberry, banana-berry) or chocolate sauce made of dates, water and raw cacao (blend ½ cup juicy dates or soaked dried dates, 1 ½ Tbsp raw cacao, pinch of salt and as much water as needed for desired consistency).
100% online, learn at your own pace
Instructor led format
No prerequisites
Continuing education credits