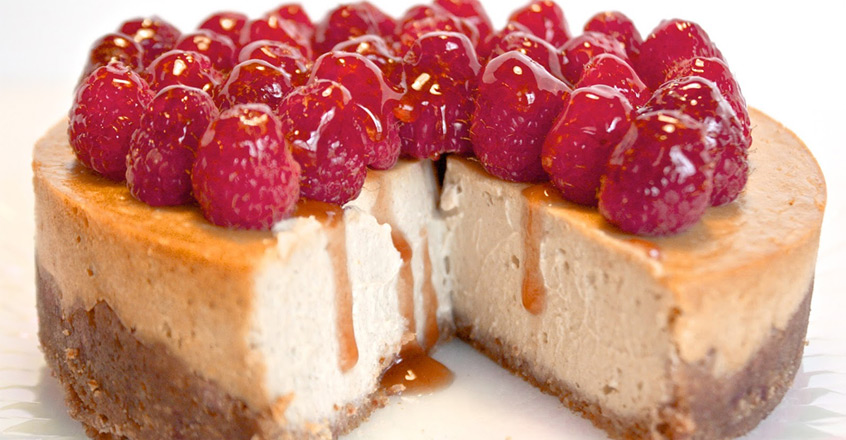 Ingredients
Crust Ingredients
1 cup pecans
½ cup almond flour
10 medjool dates, pitted
1 Tbsp flax meal + 1 Tbsp water
½ tsp cinnamon
Cake Ingredients
1 14 oz block extra firm tofu (not silken), drained
½ cup raw cashew butter
6 large Medjool dates, pitted (about ½ cup)
½ cup unsweetened plant-based milk
2 Tbsp fresh lemon juice
1 tsp pure vanilla extract
2 Tbsp agar agar flakes or powder
Topping Ingredients
Fresh fruit of your choice
¼ cup fruit-only preserves
Instructions
1. Preheat oven to 350 degrees F.
2. Place all crust ingredients into a food processor and process until the mixture forms a ball. Add a bit more water if needed.
3. Wrap the bottom of a 6 inch springform pan with foil. Place the pan in a casserole dish large enough to accommodate it and add about 1 inch of water to the dish. This is called a bain-marie (water bath) and will help the cake from cracking on top. Don't worry if you do get a few cracks though, you'll be covering the top of the cake with fruit anyway.
4. Press the crust into the springform pan, letting it creep up the sides a bit.
5. Place all cake ingredients into a high-powered blender and blend until smooth.
6. Pour the batter over the crust, smooth the top.
7. Bake for 50-55 minutes until the top is slightly golden brown and the center feels firm to the touch.
8. Remove and let cool completely, then refrigerate overnight before unmolding.
9. Gently slide a sharp knife around the edges and release the spring on the pan.
10. Top with fresh fruit of your choice.
11. Heat the preserves until they are liquidy. Then brush over the fruit. This will keep the fruit fresh and also add a beautiful gloss. Use any extra as a sauce.
12. Store in the refrigerator. Keeps fresh for about 3 days.
100% online, learn at your own pace
Instructor led format
No prerequisites
Continuing education credits