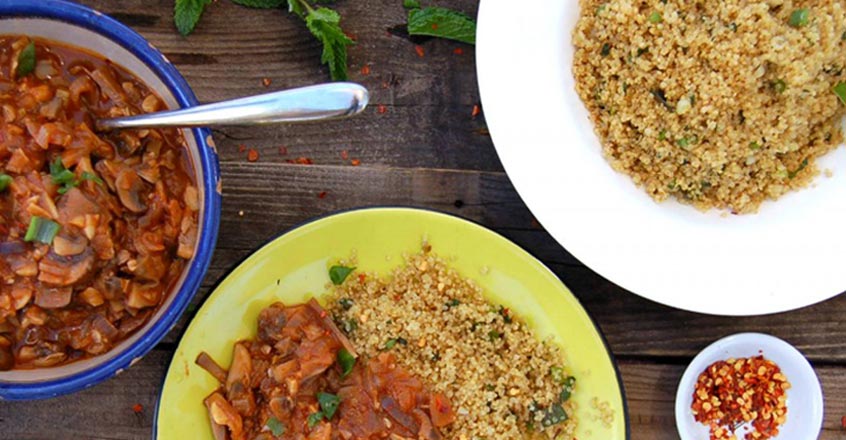 Ingredients
1 cup quinoa +2 cups water
10 garlic cloves, minced
2 scallions
2 Tbsp fresh mint, chopped
¼ tsp sea salt
1 ½ cups water
1 onion, chopped
1 Tbsp ginger, peeled and diced
1 Tbsp coriander powder
1 tsp sea salt
6 cups mushrooms, sliced
1 cup water
¼ cup tomato paste
Fresh black pepper to taste
Instructions
1. Water sauté 1/2 of the garlic, scallions and mint in a saucepan for two minutes on low to medium heat.
2. Add the quinoa, salt and pepper and cook for 2 minutes, stirring occasionally.
3. Add two cups of water and bring to a boil. Turn heat to low and simmer for 15-20 minutes until the water has been absorbed.
4. For the sauce, heat 1/2 cup of water in a pot until just starting to boil. Add the onions, garlic and ginger and cook for 5 minutes on medium heat.
5. Add the coriander, salt, mushrooms and another 1/2 cup water. Cook for 3 minutes.
6. Add the tomato paste and the other 1/2 cup of water and stir.
7. Cook on low to medium heat for 10 minutes, stirring intermittently so that the mushrooms don't stick to the bottom of the pan.
8. Add pepper, turn off heat and set aside.
9. Place a portion of the quinoa on a plate, top with the sauce and garnish with fresh mint, red pepper flakes and serve.
100% online, learn at your own pace
Instructor led format
No prerequisites
Continuing education credits