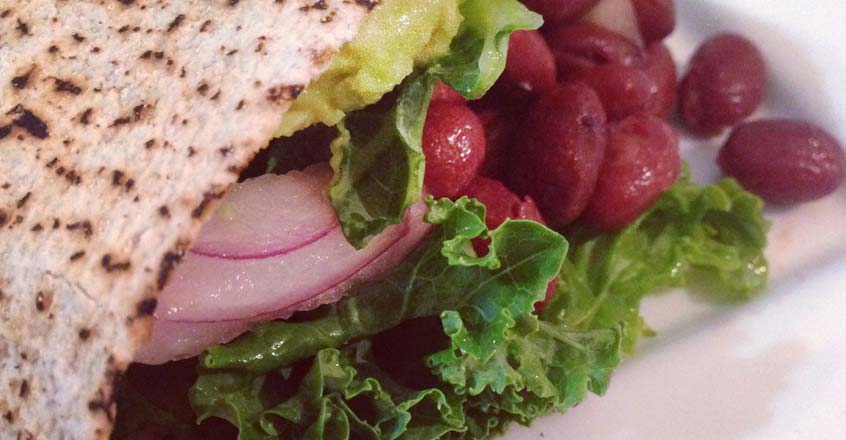 Ingredients
Big squeeze fresh lime juice
Pinch of cumin powder
Dash chili powder
Pinch of Himalayan rock salt (optional)
1 Tbsp cilantro, roughly chopped
4 medium leaves of kale, washed and dried, stems removed and roughly chopped into bite-sized pieces
1 garlic clove, minced or pressed
½ cooked or canned kidney beans, rinsed and drained
4 rye wraps (or any whole grain wrap)
1 avocado, mashed
1 Tbsp chopped red onion
Instructions
1. In a bowl, combine the lime juice, cumin, chili powder, sea salt, cilantro and kale. Mix well and set the bowl aside to marinate.
2. Heat a small saucepan and then add the beans and minced garlic. Stir and keep on the heat for about 2–4 minutes.
3. Set the wrap on your plate top with the black bean mixture, avocado, marinated kale. Top with red onion. Roll up the burrito by first folding the tortilla over from the bottom to partially cover the beans and greens, then fold in the 2 sides; finish rolling and put the burrito seam side down on a plate.
4. Slice in half, if desired.
100% online, learn at your own pace
Instructor led format
No prerequisites
Continuing education credits