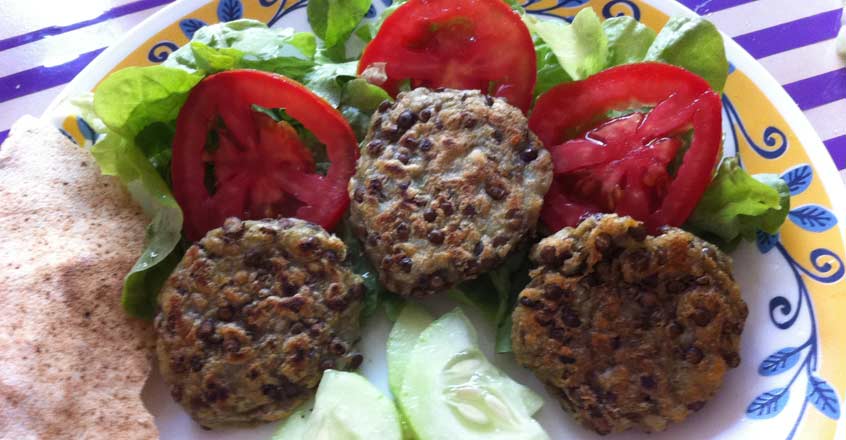 Ingredients
3 large potatoes
½ small onion
1 clove of garlic
1½–2 cups cooked lentils
⅓ cup corn flour
2 Tbsp cornstarch, mixed with 2 tbsp water
½ tsp cumin
½ tsp curry powder
½ tsp dried parsley
Salt and pepper to taste
Instructions
1. Cut the potatoes into large cubes and boil with salt, onion and garlic. Cutting the potatoes in cubes will help them cook faster and they will better absorb the flavor of the onion and garlic.
2. When the potatoes are ready, take them out of the water and let them cool.
3. Mash the potatoes with a potato masher until the potatoes are puréed. Then add the lentils, spices and corn flour and mix thoroughly.
4. Add the cornstarch and water mix. This will help the patties "bind" and stay together when you put them in the pan.
5. The mixture should be dry enough to allow you to form patties. It should not be too watery or dry. If they are too watery, add a little more corn flour. If they are too dry, add a little more water.
6. Heat a non-stick pan on low heat.
7. With your hands, make a patty, about ½ inch thick , about the size of your palm and carefully put it in the pan. Repeat until you make all the patties your pan can fit!!
8. Let the patties cook for a few minutes and then turn them over with a spatula.
9. Turn the patties as many times as you desire until they are toasted enough on both sides and then serve.
Cooking Tips
1. The secret to making the patties crunchy and delicious on the outside is the corn flour. In addition, it is best to use lentils that are not too soft, so you can distinguish the lentils within the patty.
100% online, learn at your own pace
Instructor led format
No prerequisites
Continuing education credits