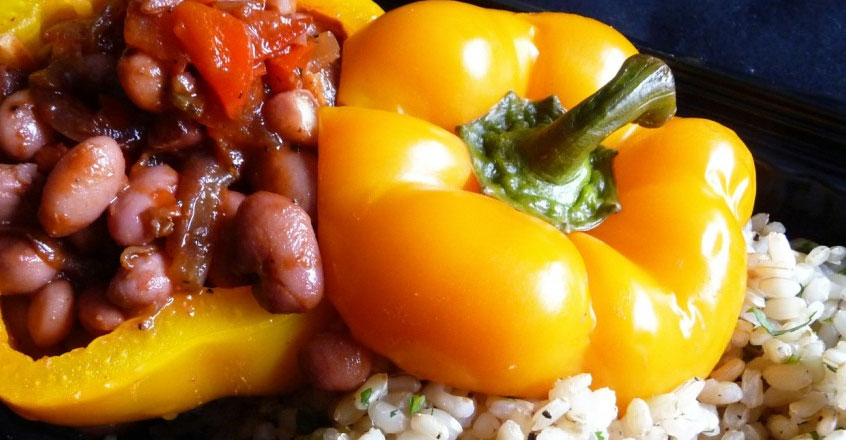 Ingredients
1¼ cups red kidney beans, raw (or 4 cups cooked)
6 medium bell peppers, any color
1 medium red onion, thinly sliced
1 medium red bell pepper, seeded and sliced
1 medium jalapeno chili, stemmed, seeded and minced
1 Tbsp chili powder
1 tsp cumin
3 tsp garlic, minced
2 Tbsp tomato paste
2 Tbsp cilantro, chopped
½ tsp salt
¼ tsp black pepper
Instructions
1. Preheat oven to 425. Cut tops off peppers, keeping stems in tact. Scoop out the ribs and seeds. Place peppers and tops cut-side-down on a sheet pan and roast in a 425 F degree oven until slightly brown, about 20 minutes. Remove from oven. Reduce heat to 350 F.
2. Heat a large skillet over high heat. Add peppers and onions. Cook until well-browned, about 10-12 minutes, stirring every few minutes. If peppers start to burn, add water and reduce the heat slightly.
3. Once peppers and onions are soft, add spices, garlic, and tomato paste. Cook another minute or two, just to toast the spices and darken the tomato paste.
4. Add 2-4 tbsp. water to deglaze the pan, using a wooden spoon to scrape up any bits. Reduce heat to low, and cook until aromatic, about 5 more minutes (but you can keep this low saute for up to 20 minutes).
5. Remove from heat. Stir in cilantro, salt, and pepper.
6. Stuff each pepper with about 1 cup of the stuffing mixture. Place the peppers into a 350 F oven and heat until warm, about 10 minutes.
100% online, learn at your own pace
Instructor led format
No prerequisites
Continuing education credits