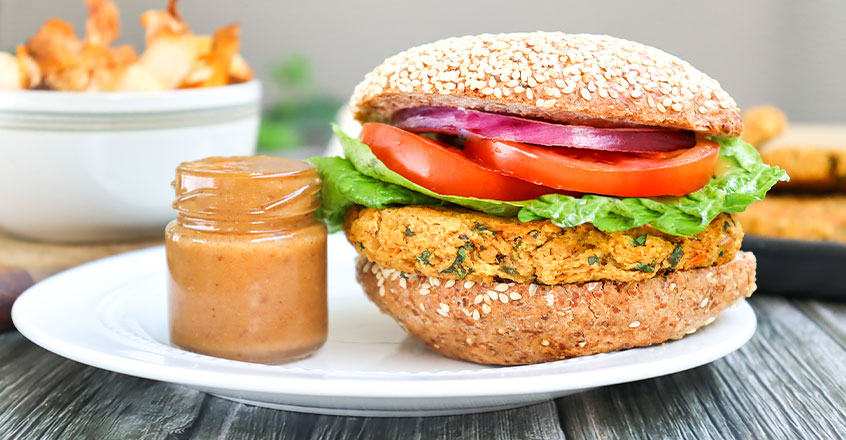 Ingredients
1 Tbsp tablespoon flax meal or chia seeds
2 Tbsp water
1 15 oz can chickpeas or 1½ cups cooked chickpeas
½ cup shredded sweet potatoes
¼ cup oats
3 Tbsp all-natural peanut butter (100% peanuts)
1 Tbsp lime juice
2 tsp rice vinegar
1 tsp low-sodium tamari
1 tsp sriracha
1 tsp grated fresh ginger
½ tsp garlic powder
¼ cup chopped fresh cilantro
Spicy Peanut Sauce
¼ cup all-natural peanut butter (100% peanuts)
3 Tbsp low-sodium tamari
1 Tbsp sriracha
1 Tbsp lime juice
2 tsp pure maple syrup
½ tsp garlic powder
Instructions
1. Preheat the oven to 375 degrees F. Line a baking sheet with parchment paper.
2. In a small bowl, mix the flax meal and water. Set aside to thicken.
3. In a food processor, pulse the chickpeas. Do not turn the beans into a paste; just coarsely chop them. (You can also mash them with a fork.) Transfer the chickpeas to a large mixing bowl.
4. Add the flax mixture and all the remaining ingredients. Mix thoroughly with your hands. Form the mixture into four to six equal patties and place them on the prepared baking sheet.
5. Bake for 20 to 30 minutes, until golden brown.
6. While the burgers are cooking, whisk together all the sauce ingredients and set aside.
7. Top the burgers with the sauce and serve.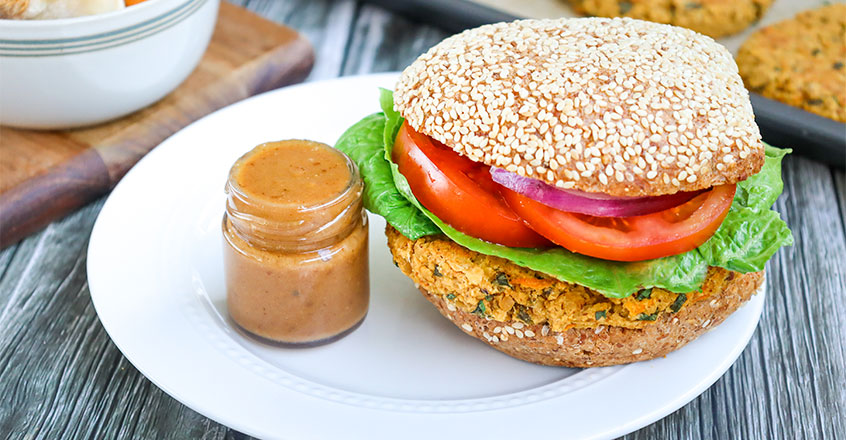 100% online, learn at your own pace
Instructor led format
No prerequisites
Continuing education credits