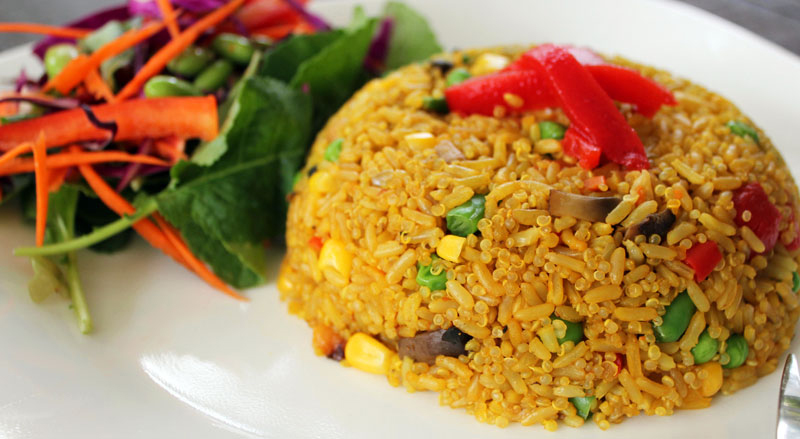 Ingredients
2 cups whole grain parboiled brown rice
1 cup quinoa
1 cup onions, diced
1 cup red bell peppers, diced
1 cup mushrooms, diced
½ cup carrots, diced
6 garlic cloves, crushed
1 cup cooked chickpeas
2 tsp saffron threads
¼ tsp turmeric
2 ½ cups cups vegetable broth
½ cup white wine or another cup vegetable broth
1 bunch asparagus or 1 cup green beans
½ cup frozen peas
¼ cup frozen corn (optional)
Sea salt and pepper to taste
¼ cup roasted red peppers sliced in strips
Instructions
1. Sauté the onions, peppers and carrots for 3 minutes adding some vegetable broth if needed.
2. Add the mushrooms, chickpeas and seasonings and cook for 3 minutes.
3. Add the rice, quinoa, vegetable broth, and wine (if using).
4. Bring to a low boil, cover, and reduce the heat to medium and cook for 25-30 minutes.
5. While the paella is cooking, prepare the asparagus or green beans separately.
6. Blanch the asparagus or green beans in boiling water for 2 minutes, then drain well.
7. Add the corn and peas to the paella and cover for 3 minutes.
8. Remove from the heat.
9. Arrange roasted red peppers and asparagus on top of the rice and serve.
Cooking Tips
1. I like to use whole grain parboiled rice for Spanish rice dishes. Uncle Ben's whole grain is my favorite.
2. For a more traditional paella taste, you can add ¼ cup toasted nori sheets cut in strips or seaweed seasoning when sautéing the vegetables.
3. Baked tofu is another great addition to this recipe.
4. After blanching, the asparagus can be seasoned and cooked in a pan for a few minutes before adding to the paella.
5. Try this roasted red pepper recipe.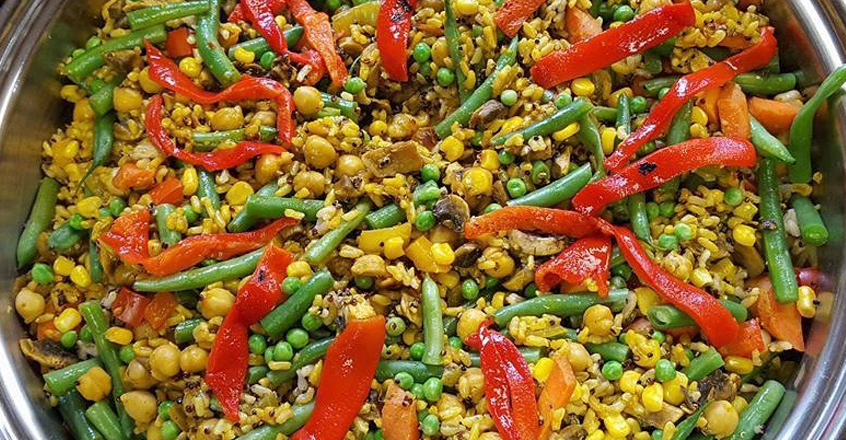 100% online, learn at your own pace
Instructor led format
No prerequisites
Continuing education credits