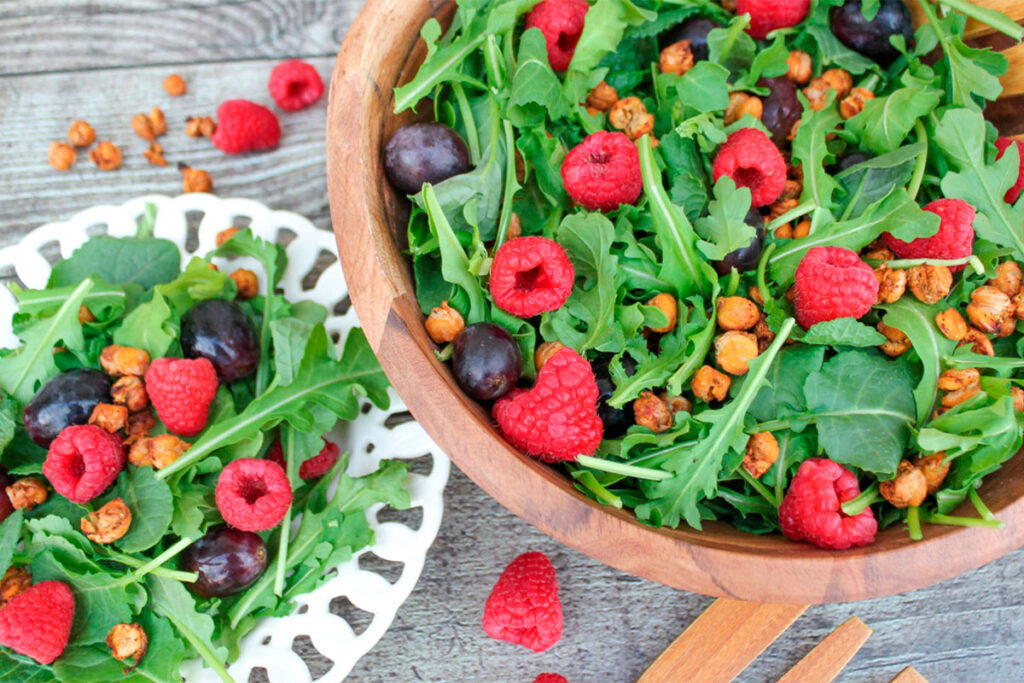 Ingredients
6 cups baby arugula
6 cups baby kale
1 cup grapes
2 cups raspberries
1 cup roasted chickpeas (see recipe)
Roasted Chickpeas
4 cups cooked chickpeas, rinsed and drained
Juice from 1 lime
1 tsp garlic powder
2 tsp chili powder
Sprinkle of chipotle powder
Pinch (about ¼ tsp) sea salt
Instructions
Roasted Chickpeas
1. Preheat oven to 425 degrees F.
2. Line a baking sheet with parchment paper and set aside.
3. Pat the chickpeas dry.
4. Place the chickpeas in a bowl, add seasonings, and mix until chickpeas are well coated.
5. Spread the seasoned chickpeas evenly on the prepared baking sheet.
6. Bake for 15 minutes, stir, and cook for another 25 minutes, or until crisp but not burned.
7. Turn the oven off and allow chickpeas to cool inside the oven. This will help to keep them crunchy.
Salad
1. Prepare the dressing and set aside.
2. In a mixing bowl, combine the greens, then top with the grapes, raspberries, and chickpeas.
3. Serve with dressing.
100% online, learn at your own pace
Instructor led format
No prerequisites
Continuing education credits