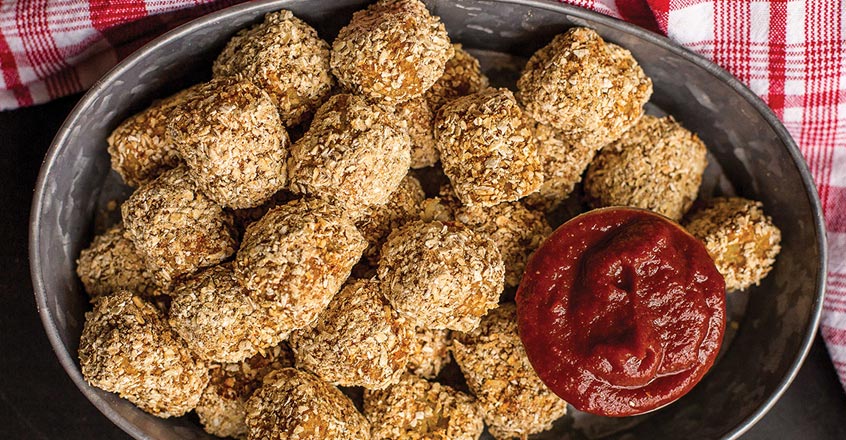 Ingredients
1 cup old-fashioned rolled oats
¼ cup nutritional yeast flakes
1 tsp smoked paprika
Sea salt (optional)
½ tsp garlic powder
⅛ tsp freshly ground black pepper
1 large head cauliflower, outer leaves removed
½ small onion, finely diced (about ½ cup)
1 Tbsp tahini
2 Tbsp flaxseed meal
1 Tbsp water
⅔ cup aquafaba (liquid from one 15-ounce can of chickpeas or white beans)*
Instructions
1. Add the rolled oats and nutritional yeast to a food processor. Process for 15–30 seconds, or until a coarse meal forms. You want a texture similar to panko bread crumbs. Transfer the oat crumbs to a large, shallow bowl or baking dish. Whisk in the smoked paprika, sea salt, garlic powder, and black pepper.
2. Preheat the oven to 425 degrees F. Line a large baking tray with parchment paper.
3. Cut the cauliflower into medium florets, trimming away most of the stem on each. You'll need 7–8 cups of florets. Add the cauliflower florets to the bowl of a food processor fitted with the S-blade (you might need to do this in batches depending on the size of your food processor), and pulse until finely riced, stopping as needed to fold in the cauliflower if it collects on the sides. The texture should be closer to couscous or quinoa than to rice.
4. Heat a large skillet over medium-low heat. Add the finely riced cauliflower, onion, and sea salt. Cook for 10–14 minutes, or until the cauliflower is tender and the pungency of its scent has mellowed, stirring occasionally and being careful not to burn or brown. Remove from the heat and stir in the tahini.
5. In a small bowl, whisk together the flaxseed meal and filtered water. Set aside for 10 minutes to thicken.
6. Use a fork to stir and mash the flaxseed mixture into the cooked cauliflower. It should resemble dry, slightly lumpy mashed potatoes. Allow the mixture to cool for 10 minutes, or until it can be comfortably handled.
7. While the cauliflower cools, pour the aquafaba into a shallow bowl or dish and create a tot-assembly station, lining up the aquafaba, oat crumbs, and lined baking tray from left to right.
8. Scoop out even tablespoons of the cauliflower mixture, form and gently compact each into a 1-inch tot, and place on the lined baking tray. This is a tender mixture, so take your time forming. You should have about 35 tots.
9. Briefly and carefully dip each tot in the aquafaba, shake off the excess, transfer to the oat mixture, and gently roll to coat. Return to the baking pan, leaving about 1 inch of space between each tot.
10. Bake for 30–35 minutes, or until the bottoms are deep golden brown, the tops are light golden brown, and the oat coating is crisp to the touch.
Cooking Tips
1. While the tots bake, make my Speedy Two-Minute Ketchup.
2. What in the World Is Aquafaba?| Aquafaba is the liquid from canned chickpeas or white beans, and it's typically used as a versatile replacement for egg whites. To obtain it, open a can of chickpeas or white beans, place a colander over a medium bowl, and strain to separate the canning liquid from the beans.
100% online, learn at your own pace
Instructor led format
No prerequisites
Continuing education credits