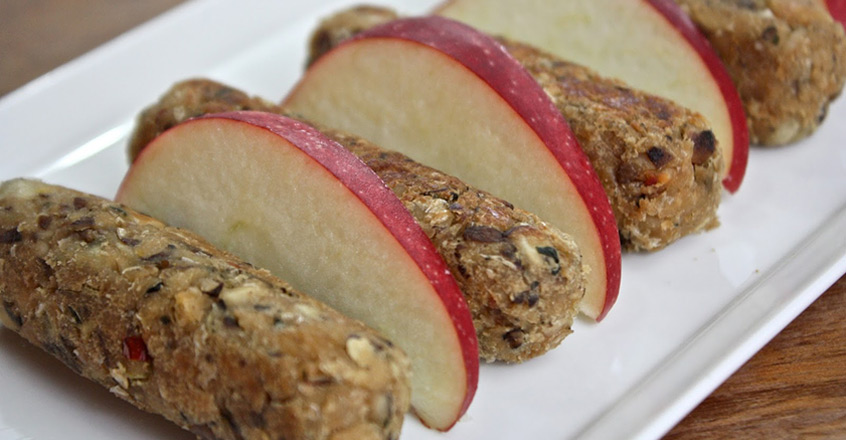 Ingredients
3 Tbsp ground chia or flax seeds
6 Tbsp water
2 cups soy curls
½ lb shiitake mushrooms
½ cup finely diced apples
1 15 oz can navy beans or any white bean
2 Tbsp maple syrup
½ tsp natural maple flavoring
1 tsp ground sage
1 tsp fennel seeds (I crushed mine a little in a seed grinder for more flavor)
2 tsp onion powder
1 Tbsp tamari or soy sauce
½ tsp red chili flakes
Instructions
1. Cover the soy curls in fresh water and let soak for 10 minutes.
2. Mix the chia with the water and set aside.
3. Line a baking sheet with parchment paper.
4. Preheat oven to 350 degrees F.
5. Remove the stems from the mushrooms (save for stock), rough chop the mushrooms and water saute until tender and most of the water has cooked off.
6. Drain the soy curls and squeeze out as much water as you can.
7. Drain and rinse the beans.
8. Add the mushrooms and all remaining ingredients, except the apples, to a food processor and pulse until combined but still chunky.
9. Fold in the apples.
10. Shape the mixture into logs about 3-inch long and 1-inch in diameter.
11. Place on the baking sheet and bake for 30 minutes turning them over once or twice to ensure an even color and heat distribution. Be gentle! They're very fragile until they're cooked.
100% online, learn at your own pace
Instructor led format
No prerequisites
Continuing education credits