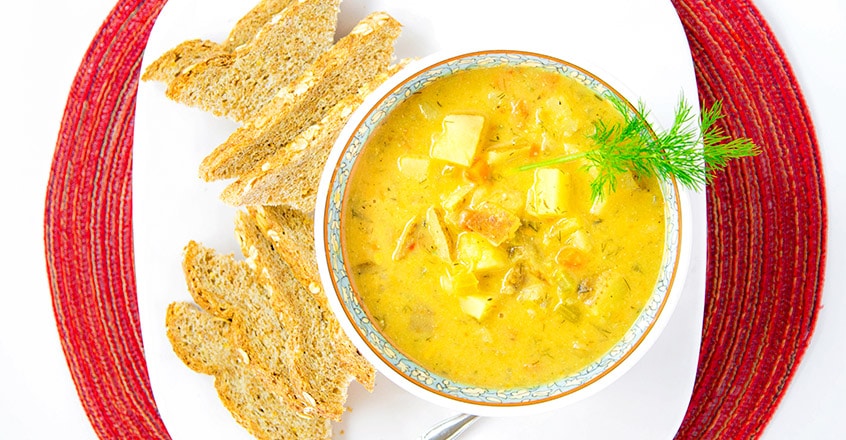 Reprinted from The China Study Family Cookbook (BenBella Books, 2017).
What You'll Need
---
1 large yellow onion, diced
8 ounces button mushrooms, sliced (optional)
6 cups low-sodium vegetable broth
2 pounds russet potatoes, peeled and diced
1 Tbsp minced fresh dill, plus more for garnish
1 Tbsp dried basil (if using mushrooms)
Sea salt and black pepper to taste
How to Make It
---
1 Sauté the onion, carrots, celery, and mushrooms (if using) in a large saucepan over medium heat until the onion turns translucent and starts to brown, about 8 minutes. Add water 1 to 2 tablespoons at a time to keep the vegetables from sticking.
2 Add the vegetable broth, potatoes, dill, basil (if using), and thyme. Cover and cook until the potatoes are tender, about 20 minutes.
3 Add the plant-based cheese sauce, season with sea salt and black pepper to taste, and cook for another 5 minutes.
4 To serve, ladle the soup into bowls and garnish each serving with additional fresh dill.
Cooking Tips
You can substitute the plant-based cheese sauce with 2 cups of unsweetened plant-based milk mixed with 2 tablespoons of arrowroot powder.
Copyright 2022 Center for Nutrition Studies. All rights reserved.