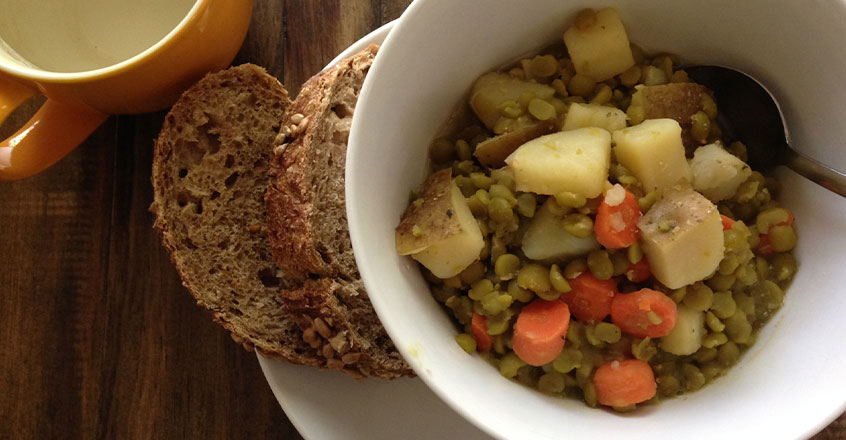 Ingredients
½ yellow or white onion, diced
2 cloves garlic, minced
2 cups dry split peas, rinsed and sorted for rocks
2 medium white potatoes, cubed
3 carrots, sliced
6 cups water or low sodium vegetable broth
1 tsp liquid smoke (optional)
1 tsp salt, or to taste
1 bay leaf
1 tsp dried thyme
½ tsp Herbes de Provence (optional)
Instructions
1. In a large pot over medium-high heat, add 1/4 cup of the vegetable broth and onion. Steam sauté onion until translucent, about 3 minutes.
2. Add garlic and steam for another 2 minutes.
3. Add remaining ingredients and bring mixture to a boil.
4. Reduce to a simmer and stir periodically.
5. The soup may foam, which is normal when cooking with split peas. Stir and lower heat slightly if this happens. Continue simmering until peas are tender, about an hour and a half.
6. Remove the bay leaf and serve.
Cooking Tips
1. If you prefer a smooth soup, transfer to a blender or use an immersion blender, carefully pulse until smooth. Return to pot and heat until hot, adding more water if necessary.
2. Garnish with croutons or grated carrots for a splash of color.
3. Ladle soup into individual containers and freeze for up to three months for easy work lunches or quick homemade dinners!
100% online, learn at your own pace
Instructor led format
No prerequisites
Continuing education credits