The following is an article from a Community Grant recipient.
On 333 acres of Pennsylvania farmland, some of the most cutting-edge research on regenerative organic agriculture is taking place. This site is home to Rodale Institute, a nonprofit focused on growing the regenerative organic movement through research, farmer training, and consumer education. Here, scientists, farmers, and educators meet to study how a food system that rejects chemicals, regenerates the soil, and grows healthy food can help heal a population. The recipient of a CNS grant, the Rodale Institute has several initiatives to achieve a healthier, communal food system.
Vegetable Food System Trial for More Nutrient-Dense Food
Rodale Institute has been a global leader in regenerative organic agriculture research for over 70 years. In 1947, founder J.I. Rodale wrote a simple but powerful equation on a chalkboard: Healthy Soil = Healthy Food = Healthy People. This equation continues to motivate Rodale Institute's research, including new research analyzing the relationship between soil quality and the nutritional value of our food. Our Vegetable Systems Trial compares conventional and organic methods for growing vegetables side by side, including analysis of the resulting nutrient density. The nutrient density of fruits and vegetables grown in the US has declined over the past 50–70 years. As a result, many people today suffer from "hidden hunger"—they're getting enough calories but not the vital nutrients necessary for health.
The Rodale Institute Farmer Training Program (RIFT) for Promotion of Organic Farming
The Rodale Institute Farmer Training Program (RIFT) provides practical training for future organic farmers, bridging the gap between the research (establishing evidence for why organic methods are so important in the first place) and consumer access. The farmers in this program learn how to operate and market a farm, including how to plant, tend, and harvest the fields, but also how to bring produce to market and identify food access issues. Through this program, then, Rodale Institute is able to positively impact not only future organic farmers, but also the wider community.
We believe that expanding access to organic foods is fundamentally tied to improving human health.
This focus on food access is a critical part of what we do at the Rodale institute. We believe that expanding access to organic foods is fundamentally tied to improving human health. And this is more important now than ever before—similar to how many people aren't getting enough nutrients in their foods, many people also aren't getting enough fruits and vegetables. This occurs despite the fact that a diet rich in vegetables and fruits can lower blood pressure, reduce the risk of heart disease and stroke, prevent some types of cancer, lower risk of eye and digestive problems, and have a positive effect upon blood sugar, which can help keep appetite in check. Our food access model encourages more consumption of fruits and vegetables through our various organic food incentive programs.
Food Access via Mobile Markets and Inclusive Payment Options
This focus on mitigating the social and economic barriers preventing healthy eating originates in the needs of our surrounding communities. Both of the metropolitan areas neighboring Rodale Institute, Allentown and Reading, are designated as "food deserts," meaning they have little to no access to fresh food for their populations. Having little to no access to fresh food usually means even less access to organic food. To help address this issue, Rodale Institute piloted an innovative farm share model in 2012. The farm share model includes a weekly payment option for members, and we try to increase access even more by accepting Supplemental Nutrition Assistance Program (SNAP) benefits and providing a SNAP incentive program to further lower the cost of shares.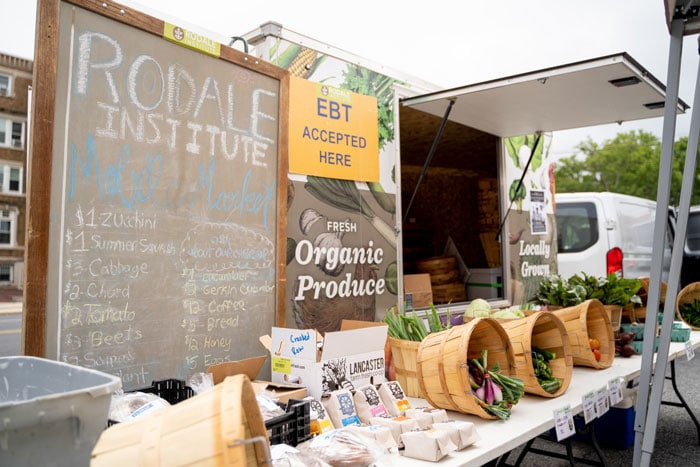 In 2015, we launched a mobile farmers market, operated by our farmer trainees, to further increase healthy food access to community members that were not able to participate as farm share members. This Mobile Market allows us to bring healthier foods directly into the community. It accepts SNAP, Women, Infants, and Children (WIC) and Senior WIC Farmers Market Nutrition checks, and provides a SNAP incentive program. Mobile Market events also provide a venue for community cooking and nutrition education demonstrations.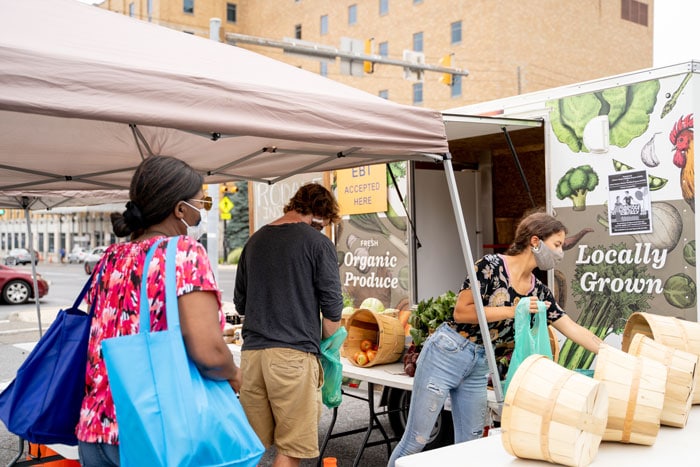 Food Pharmacy Project
In 2020, our food access programming evolved even further. In partnership with a local healthcare organization, Lehigh Valley Health Network, we piloted a vegetable prescription program called the Food Pharmacy Project. Patients from a hospital in Allentown, PA, were provided free health screenings and a prescription for organic vegetables redeemable through our Mobile Market located at the hospital. This program was a great success, bringing a new variety of fruits and vegetables into participants' homes.
"This program helped me save money on my weekly groceries," said one Food Pharmacy project participant. "I was able to provide fresh vegetables for my family but most importantly, we were all able to practice healthier habits!"
Another participant said: "This program helped me to create a bond with my daughter. Every week when we received the vegetables, my daughter and I got together to clean the vegetables and talked about the importance of healthy habits. The program also helped us to save money to buy more food for our home. I have no words that can express my gratitude. Thank you!"
Throughout the COVID-19 pandemic, we have seen even more proof of how important food security is, and how frail our food system can be. Hearing from customers about how receiving our organic food has improved their health has meant a lot, and it continues to motivate us. Parents tell us about how our program helped encourage their kids to eat healthier, while seniors express to us how the Mobile Market is very convenient, as many of them don't have reliable transportation to reach grocery stores or farmers markets.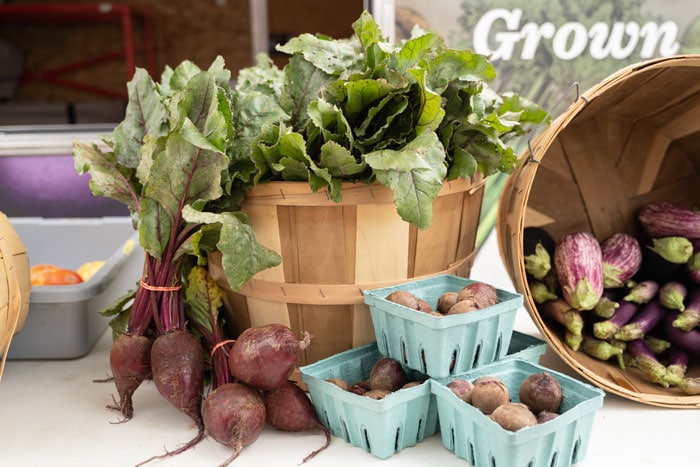 Inspiring Change for the Future
Our food access programming model is also meant to be replicated by other organizations. We are working to replicate this model in our sites across the country, such as our Southeast Organic Center just outside Atlanta, Georgia. We've also watched our Food Pharmacy Project inspire similar models in our region.
In the future, we hope that we will be able to study the biometric health outcomes of participants in the farm share, Food Pharmacy, and other programs. This would reinforce the strong evidence already supporting the value of plant-forward diets and their effect on mitigating lifestyle diseases such as obesity and diabetes. It would also highlight the importance of our continued research and training programs. Ultimately, we hope that through a focus on training organic farmers, studying organic food's nutrition, and increasing access to organic produce, we at Rodale Institute can move one step closer to healing people and the planet.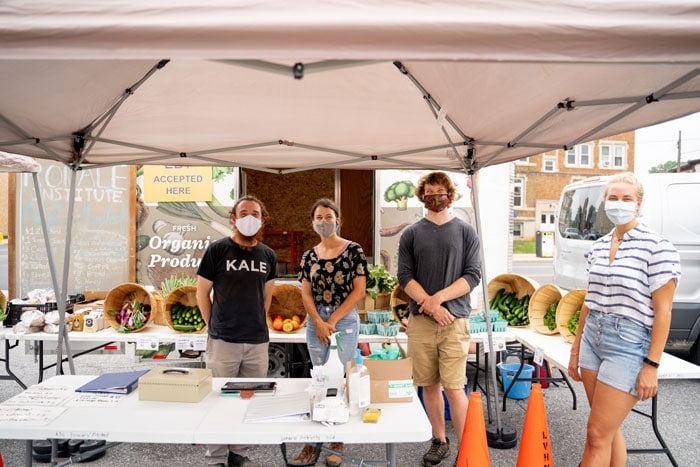 The T. Colin Campbell Center for Nutrition Studies (CNS) is committed to increasing awareness of the extraordinary impact that food has on the health of our bodies, our communities, and our planet. In support of this commitment, CNS has created a Community Grant initiative to empower sustainable food-based initiatives around the world by providing grants to enable innovative start-ups and to propel the growth of existing initiatives. Please consider making a donation to this great cause. 100% of your donation will go to support initiatives like the one you just read about in this article.
Learn more about our Community Grant program:
https://nutritionstudies.org/community-leads-service-initiative
Copyright 2023 Center for Nutrition Studies. All rights reserved.