The following is an article from a Community Grant recipient.
In Hinsdale, IL, a western suburb of Chicago and our main location, Wellness House has been serving those affected by cancer for more than 30 years, but not in the way that most think of cancer treatment. Our work is not in the medical procedures, treatments, and surgeries that are the domain of physicians and medical teams, but instead by helping cancer patients live their best lives.
You feel it as soon as you walk through our doors: a sense of well-being, positive energy, peace. That's the magic of Wellness House, where our specialists help those affected by cancer live and love life.
We bridge the gap between surviving and thriving.
As the Oncology Dietitian for Wellness House, I have the privilege of sharing nutritional information with cancer patients, families, and caregivers. More importantly, I help them implement lifestyle changes. We teach them how to manage side effects and maintain a healthy weight while eating nutritious foods that provide the nutrients they need for energy, recovery, and healing. Our cooking classes include cooking demonstrations, recipes, and samples to help overcome barriers related to healthy eating. The skills and information shared in these programs help our patients to not only practice healthier habits but also to regain a sense of control during this challenging time in their life.
We focus our programs on a plant-based diet—including vegetables, fruits, whole grains, nuts, seeds, and legumes—which research shows is the most health-promoting way to eat when you have a cancer diagnosis. This is true during both active treatment and post-treatment. Though some may think of plant-based eating as dull, the truth is, there's even more variety, flavor, and creativity when working with plant-based foods. Add to that the special disease-protective qualities of phytonutrients (nutrients found only in plants), which are known to provide protection against cancer, and the plant-based diet is undoubtedly the best option for cancer patients.
I encourage our patients to eat healthy year-round, with a focus on strengthening the immune system. At the center of this goal are whole foods, not supplements or store-bought cleanses. Everyone can build their immune system by what they put on their plate. We can do more than just feed our bodies; we can nourish our bodies.
We focus our programs on a plant-based diet—including vegetables, fruits, whole grains, nuts, seeds, and legumes—which research shows is the most health-promoting way to eat when you have a cancer diagnosis.
Due to the COVID-19 pandemic, we moved all of our programs online in March 2020. Adapting to that change while maintaining the hands-on experience required creativity, but our participants have assured me that we've been successful.
After attending one of the online programs, Carol said, "I want to thank you again for the Zoom cooking class last night. It was great fun. I am grateful for you as I have never cooked as much as I have during the pandemic. Your classes have given me more confidence to keep trying. I have made soup all my life, but this is the first soup that has tasted really good! I will use these tips with all my soups from now on."
Another participant, Chari, said, "Thank you, Angela. Lately, I have been in a cooking slump and really enjoyed tonight's menu and the process. With the pandemic, I have not been doing my favorite thing: cooking and having dinner guests. So, tonight nourished and nurtured me. Thanks for the tip about getting Smoked Paprika at Trader Joe's. Looking forward to cooking with you again."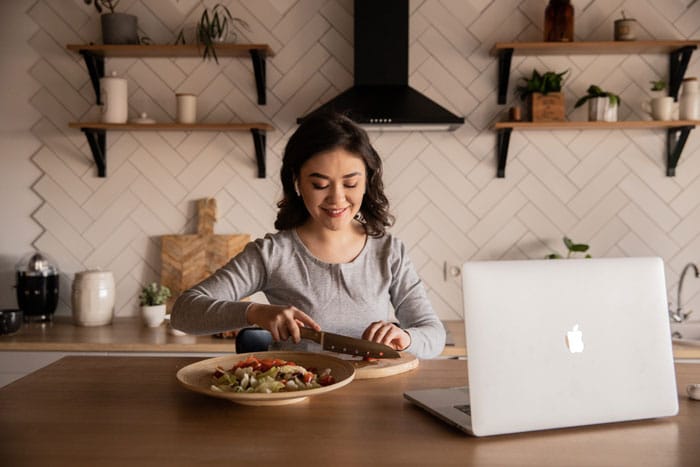 In 2015, the 25th anniversary of Wellness House, we embarked on an initiative to increase the number of people we help, particularly in underserved areas. Rather than building new locations, we focused on creating local partnerships with medical and community organizations, including the University of Illinois Hospital and Health Services, and Mercy Hospital & Medical Center. We focused on Chicago's South and West Sides, where communities struggle to access cancer support and experience disproportionately poor health outcomes.
This year, with the help of a grant from the T. Colin Campbell Center for Nutrition Studies, we plan to expand our reach in Chicago's South and West Sides to increase the number of participants in our monthly Cooking for Cancer class. When it is safe to do so, we will transition from online learning to a combination of online and in-person classes and provide participants of the online classes with bags of healthy ingredients to prepare the recipes at home.
Cooking is a critical part of any health journey, but especially for cancer patients. It helps put evidence-based recommendations into action and onto our plates. It can also positively affect our outlook on life and help create a sense of community. I am excited to continue working with individuals impacted by cancer to help them discover the power and joy of food.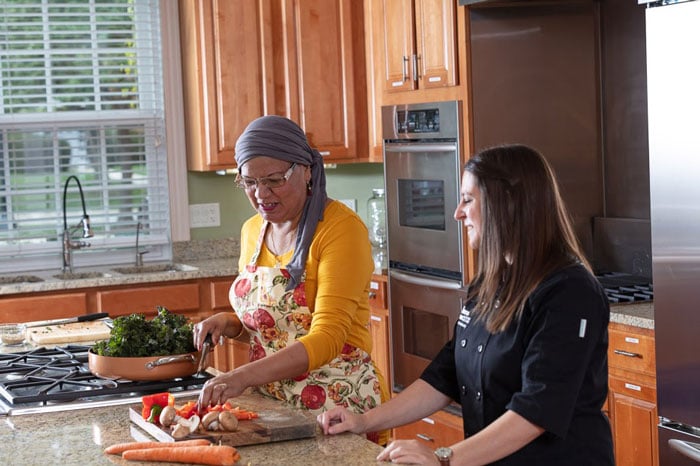 The T. Colin Campbell Center for Nutrition Studies (CNS) is committed to increasing awareness of the extraordinary impact that food has on the health of our bodies, our communities, and our planet. In support of this commitment, CNS has created a Community Grant initiative to empower sustainable food-based initiatives around the world by providing grants to enable innovative start-ups and to propel the growth of existing initiatives. Please consider making a donation to this great cause. 100% of your donation will go to support initiatives like the one you just read about in this article.
Copyright 2023 Center for Nutrition Studies. All rights reserved.