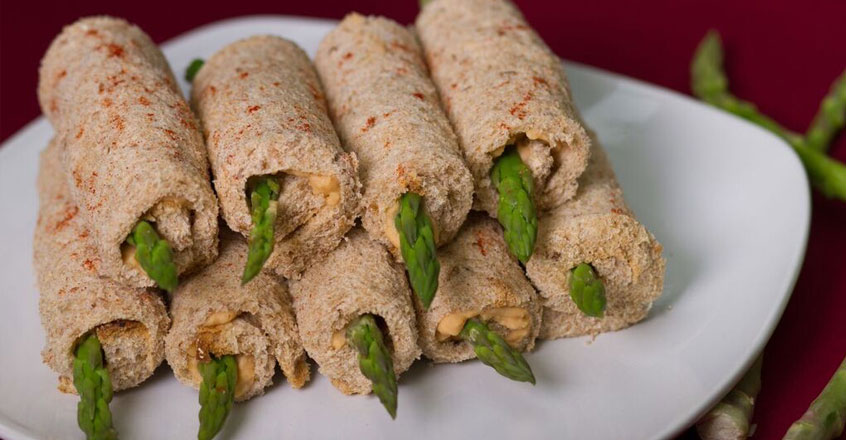 Ingredients
1 1 (15 oz) can cannellini beans, rinsed and drained, or 1½ cups cooked cannellini beans
1 Tbsp Dijon mustard
2 tsp lemon juice
¼ tsp liquid smoke
2 Tbsp nutritional yeast flakes
1 tsp garlic powder
1 tsp smoked paprika, divided
12 slices 100% whole wheat bread
24 asparagus spears
Instructions
1. Preheat the oven to 425 degrees F. Line a rimmed baking sheet with parchment paper.
2. Combine the beans, mustard, lemon juice, liquid smoke, nutritional yeast flakes, garlic powder, and ½ teaspoon of the smoked paprika in a food processor and blend until smooth and creamy. Set aside.
3. Cut off the crusts from the bread and flatten each piece with a rolling pin until very thin.
4. Trim the tough ends of each asparagus spear so they measure 1 to 2 inches longer than the flattened bread.
5. Spread about 2 tablespoons of the bean mixture onto a flattened slice of bread. If this seems too thick to roll, you may need to use less. Place two asparagus spears along the edge of the bread and roll it up. Repeat with the remaining ingredients.
6. Place the rolls, seam side down, on the prepared baking sheet and sprinkle with the remaining ½ teaspoon smoked paprika. Bake for 10 minutes, or until the bread becomes crispy and slightly golden around the edges. Serve warm.
Cooking Tips
1. You can choose any type of bread for this recipe as long as it's soft enough to roll out very flat.
100% online, learn at your own pace
Instructor led format
No prerequisites
Continuing education credits