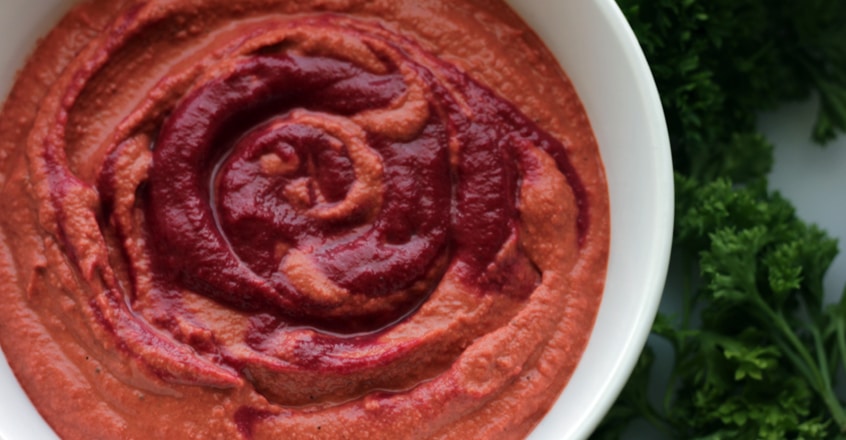 Ingredients
1 medium beet, steamed and diced
½ lemon, juiced
2 Tbsp pomegranate molasses (optional)
½ tsp sea salt (optional)
½ tsp ground coriander
¼ tsp ground cloves
1 15 oz can chickpeas, drained and rinsed
¼ cup tahini
2-4 cloves garlic
1 tsp ground cumin
½ tsp smoked paprika
Instructions
1. Add beets, lemon juice, pomegranate molasses, a pinch of salt, ground coriander, and ground cloves to a food processor and blend until a smooth puree forms.
2. Remove 2 Tbsp of beet puree from the food processor and set aside. Add chickpeas, tahini, garlic, ground cumin, and smoked paprika to the food processor and blend for about five minutes, or until hummus is mostly smooth.
3. Add hummus to a serving bowl and create a swirl design with the beet puree that was reserved.
4. Serve with sliced vegetables with salad as an oil-free dressing, or as a spread on bagels, toast, sandwiches, or plant-based burgers.
Cooking Tips
1. Can be stored in an air-tight container in the refrigerator for up to a week.
100% online, learn at your own pace
Instructor led format
No prerequisites
Continuing education credits