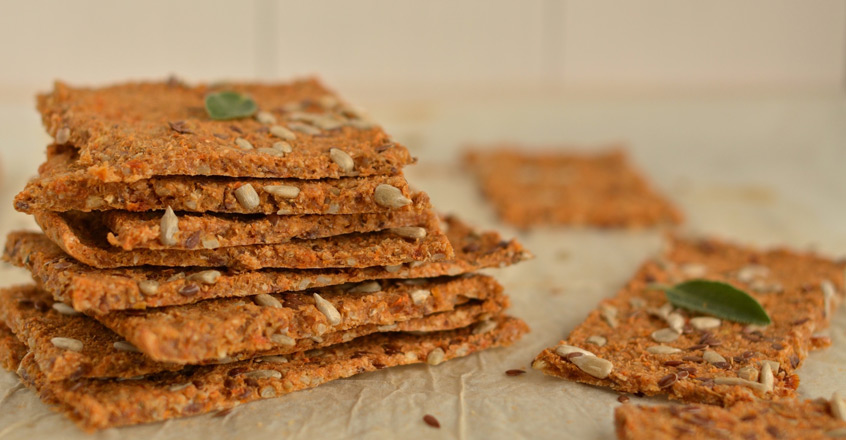 Ingredients
1 cup buckwheat groats, soaked
⅓ cup sunflower seeds
1 Tbsp flax seeds
6 sundried tomatoes, soaked
¼ tsp salt (optional)
10 green olives (optional)
¼ tsp smoked paprika
1 tsp powdered garlic
2 Tbsp onion flakes
1 Tbsp lemon juice
1 Tbsp water or non-dairy milk
Instructions
1. Soak buckwheat and dried tomato halves overnight or at least for 6 hours.
2. Heat oven to 350 degrees F (175 C).
3. Rinse and drain buckwheat and sun dried tomatoes and put them in the food processor together with all the other ingredients. Process until all the ingredients are incorporated. You'll need to scrape the sides now and again.
4. Measure two pieces of parchment paper of the size of your baking sheet. Place one sheet on a chopping board or on kitchen counter. Place the batter in the middle of parchment paper and place the second piece of parchment paper on top. Gently press down with your hands. Press or roll it out until it is almost the same shape and size as your baking sheet. Remove the top paper and lift the batter onto baking sheet.
5. Sprinkle some sunflower seeds and flax seeds on top and press them in using a spoon.
6. Bake for 30 minutes, and then turn off the heat, open the oven door a bit and let cool in the oven to get it really crispy. Should you like it a bit soft, remove immediately and start munching.
100% online, learn at your own pace
Instructor led format
No prerequisites
Continuing education credits