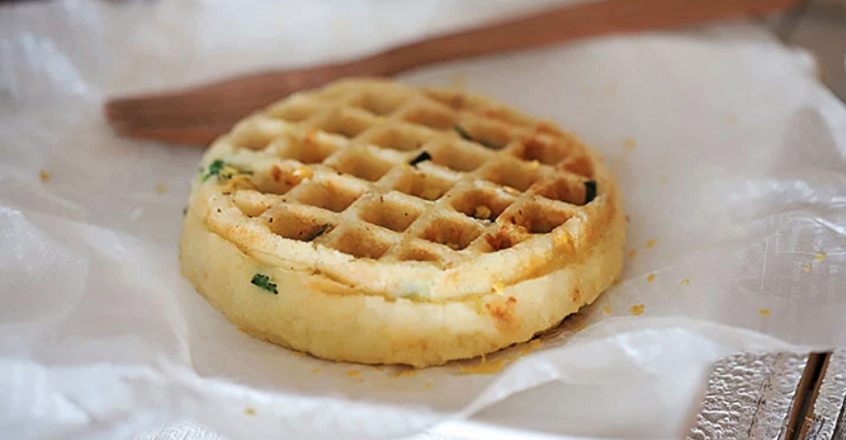 Ingredients
3 lbs bag yellow potatoes
1 cup corn (fresh or frozen)
½ cup chopped green onion
2 hot peppers (optional)
½ cup no-oil hummus
3 Tbsp nutritional yeast
⅓ cup brown rice flour
Salt, to taste
Pepper, to taste
Instructions
1. Steam the potatoes until softened. Drain and add to a large bowl along with the remaining ingredients.
2. Mash everything with a potato masher and then mix well with a spoon.
3. Spoon a small amount of the dough into your hand and press to test. If sticky, add a bit more rice flour and stir. Potatoes have varying stages of moisture content so the amount of flour to add can vary. The dough should be soft and airy.
4. Divide mixture into 6 fist sized balls, pressing gently to form.
5. Heat waffle maker on high.
6. Add one ball at a time. Place them gently into the waffle maker. Press lightly as they will continue to press down while cooking. These waffles are thicker than regular waffles. Do NOT peek during the cooking process as it will release the heat. The first one takes about 14 minutes and the rest usually take about 12 to 13 minutes.
Cooking Tips
1. You can substitute sweet peppers for the hot peppers.
2. If the mixture seems dry add a splash of a plant-based milk.
3. If the waffle sticks (sometimes this happens with the 1st one) use a flat knife to gently pry it off the waffle maker.
4. Instead of hummus you can substitute plant-based sauces such as vegan pesto, chili garlic sauce, dijon mustard, etc.
100% online, learn at your own pace
Instructor led format
No prerequisites
Continuing education credits