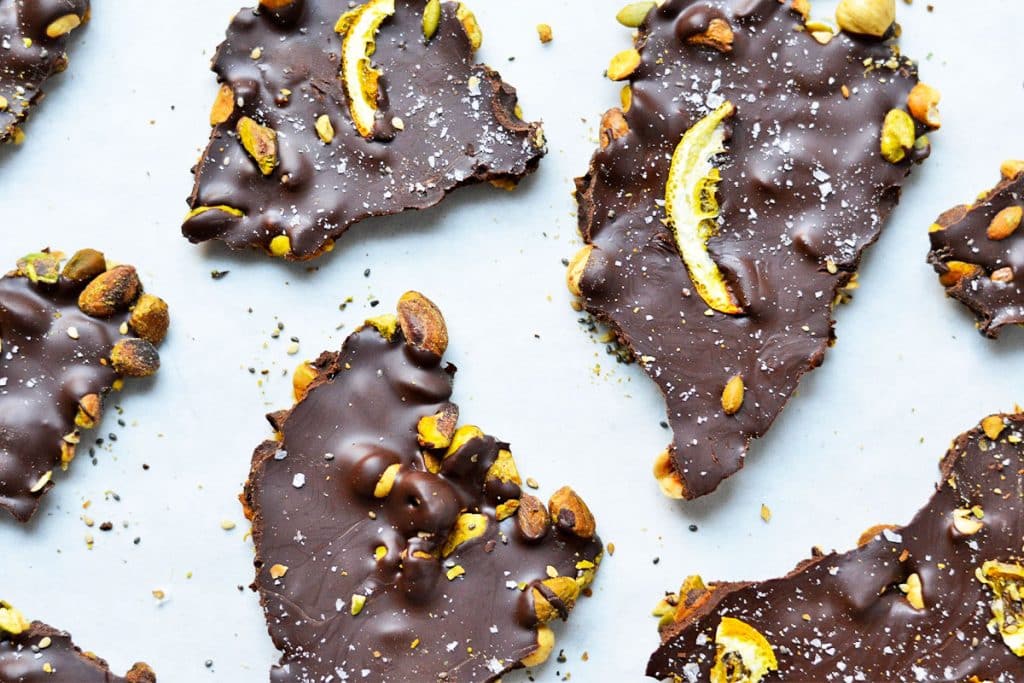 Ingredients
1 thin-skinned orange
¾ cup shelled pistachios, toasted, cooled and roughly chopped
¼ cup hazelnuts, toasted, cooled, skinned and roughly chopped
¼ cup pumpkin seeds, toasted and cooled
1 Tbsp chia seeds
1 Tbsp sesame seeds, toasted and cooled
1 tsp orange zest
1 cardamom pod, ground finely and sifted
12 oz dairy-free dark tempered chocolate (65% cacao content)
2 tsp flaky sea salt
Candy thermometer
Instructions
1. Preheat oven to 150 degrees F. Line a baking sheet with parchment paper.
2. Thinly slice orange widthwise and place on prepared baking sheet. Bake for 2-3 hours until dry, but slightly sticky. Remove from oven and let cool.
3. When cool enough to handle, break orange slices into shards; set aside.
4. In a large bowl, toss together nuts, seeds and orange zest to thoroughly combine. Place in a single layer on a parchment-lined baking sheet. Set aside.
5. Melt chocolate in a double boiler until it reaches 88-90 degrees F and pour over nut mixture to coat completely.
6. When chocolate is semi-cool but still tacky, sprinkle surface with sea salt and orange shards.
7. Place in a cool area of your kitchen or refrigerate until bark cools completely, and break up into bite-size pieces.
Cooking Tips
1. Orange chips can be made up to several days in advance and stored in an airtight container at room temperature.
100% online, learn at your own pace
Instructor led format
No prerequisites
Continuing education credits