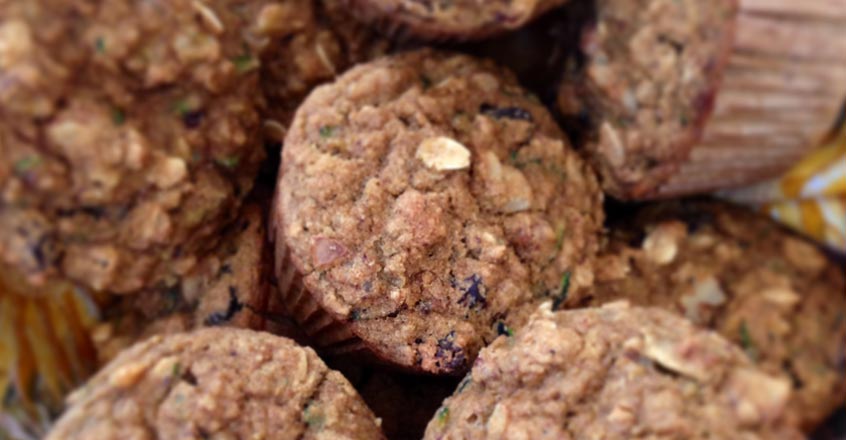 Ingredients
1 Tbsp ground chia seeds
3 Tbsp water
1 cup unsweetened almond milk
1 Tbsp lemon juice
1 tsp vanilla
1 cup gluten-free flour blend
¾ cup gluten-free oat flour (create your own by grinding oats in blender)
½ cup gluten-free rolled oats
½ cup raw/unrefined sugar (i.e. Sucanat or turbinado)
2 tsp baking powder
1 tsp baking soda
1 tsp pumpkin pie spice
½ tsp sea salt
1½ cups grated zucchini
½ cup raisins
½ cup walnuts, chopped
Instructions
1. Preheat oven to 350°F degrees.
2. Line a 12-cup muffin tin with paper liners.
3. In a small bowl, combine ground chia seeds with water and let sit.
4. In a medium-sized bowl, combine almond milk with lemon juice and let sit. Don't panic as it curdles – it's supposed to!
5. In a large bowl, whisk together flours, oats, sugar, baking powder, baking soda, salt, and pumpkin pie spice.
6. Add vanilla and chia seeds to almond milk/lemon juice mixture and whisk until combined.
7. Add wet ingredients to dry and stir until just combined.
8. Fold in zucchini, raisins and walnuts. Let sit 5-10 minutes before filling prepared muffin tins.
9. Bake 21-23 minutes. Once muffins are out of the oven wait 2-3 minutes before transferring to cooling rack.
100% online, learn at your own pace
Instructor led format
No prerequisites
Continuing education credits