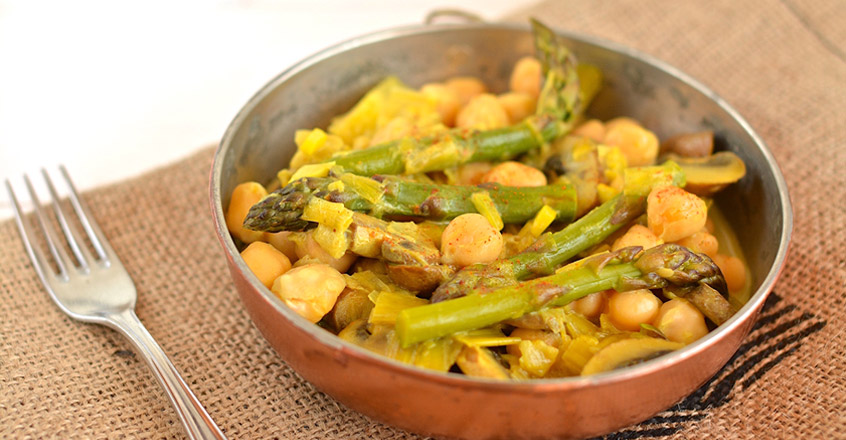 Ingredients
10 thick slices of leek
3 garlic cloves, minced
3.5oz mushrooms (any variety), sliced
1 bunch asparagus, bottoms cut off
¼ tsp salt (optional)
½ tsp turmeric
⅛ tsp curry powder
⅓ cup water
½ cup light coconut milk
1 can chickpeas, rinsed and drained
1 heaped tsp cornstarch + 2 tbsps. water (optional)
Instructions
1. Throw leek slices, minced garlic, sliced mushrooms, salt (optional), turmeric and curry powder into a saucepan and sauté with 2 tbsps. of water for 5 minutes stirring occasionally.
2. While the other ingredients are sautéing, prepare the asparagus by snipping off the woody end and cutting the edible part into shorter sticks (or leave them long, as you prefer).
3. When the 5 minutes is up, add asparagus and ⅓ cup of water onto the saucepan. Let simmer for 10 minutes.
4. Stir in ½ cup of coconut milk and bring to boil. If the sauce is too liquidy, pour in starch-water mixture stirring at the same time. Bring to boil again and turn off the heat.
5. Finally stir in chickpeas.
6. Sprinkle some nutritional yeast on top for a cheesy flavor.
7. Serve it over your favorite whole grain or pasta.
Cooking Tips
1. If you prefer not to use coconut milk, substitute a non-dairy, unsweetened milk.
2. If you want more sauce, just add more liquid (and more spice) and thicken it with corn starch.
100% online, learn at your own pace
Instructor led format
No prerequisites
Continuing education credits