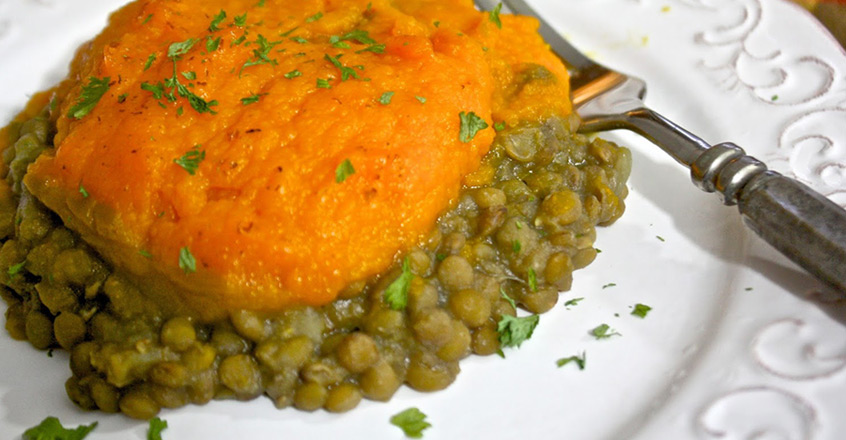 Ingredients
2 cups lentils
5 cups water
1 diced onion
4 bay leaves
1 Tbsp Spike salt-free seasoning
1 tsp ground black pepper
2 Tbsp nutritional yeast
6-8 cups roasted butternut squash (about 2 medium-sized squash).
Instructions
1. Simmer the lentils with the water, onion and spices until all the water is absorbed. I covered mine to start, then removed the lid when the lentils were tender to allow the excess water to cook off.
2. To roast the squash: Preheat oven to 425 degrees F. Slice squash lengthwise and scoop out the seeds. Place into a baking dish, cut side down, and roast until tender. A fork should glide easily into the squash when it's done. About 45 minutes.
3. When it's cool enough to handle, scrape out the squash flesh and mash it well.
4. Remove the bay leaves from the lentils, add the nutritional yeast and stir well to combine. Spread the lentils in the bottom of a lightly oiled casserole dish. Top with the mashed squash. Bake for about 30 minutes at 350 degrees F until bubbly.
100% online, learn at your own pace
Instructor led format
No prerequisites
Continuing education credits