Red Quinoa Enchiladas Rojas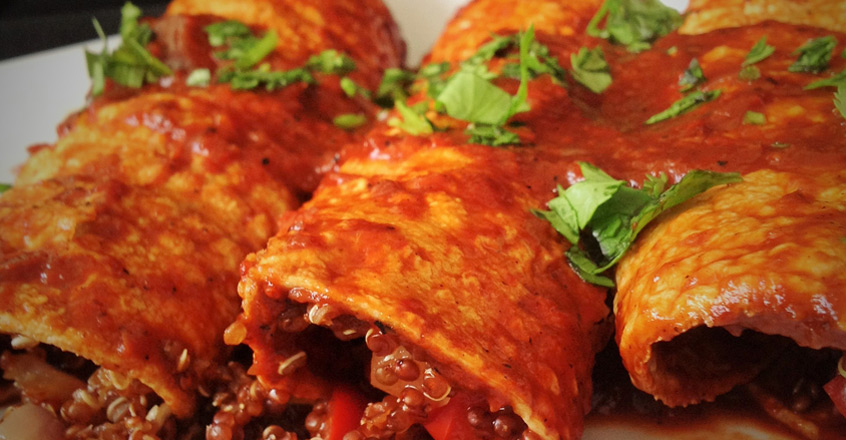 What You'll Need
---
FILLING INGREDIENTS
ANCHO ROJA SAUCE INGREDIENTS
How to Make It
---
FILLING PREPARATION
1 Preheat oven to 350 degrees F.
2 Peel, seed and dice the onion and red bell pepper. Add the diced pepper and onion to a medium pan with the cumin and paprika. Cover and cook over medium heat just until onions start to brown, about 5-7 minutes. When onions and peppers start to stick to the bottom of the pan, you're ready for the quinoa.
3 Add the quinoa to the pepper onion mixture. Stir well and continue cooking over medium heat, just 2-3 minutes, to toast the quinoa. Once quinoa is toasted, you're ready for water. Add the garlic and 1 ½ cups of water. Cover, bring to a simmer. Cook quinoa about 12 minutes. Quinoa will be ready when it "pops". Remove the lid to cook off any excess moisture. Add salt and set aside until ready to assemble enchiladas.
ANCHO ROJA SAUCE PREPARATION
1 Heat 1 ½ cups of water to a boil. Add the dried anchos to the boiled water. Weigh down the chilis with a spoon or a cup to fully submerge them. Soak for 20 minutes.
2 Peel, seed, and dice the onion and bell pepper. Heat a wide saute pan over high heat. Add the onion and bell pepper until well charred, about 10-12 minutes. Add water and reduce the heat, if needed, to prevent burning.
3 Remove the dried anchos from the soaking liquid. Remove the stems and scrape out the seeds. Coarsely chop the anchos.
4 Add the anchos to a blender along with the charred onion and pepper. Add the garlic, red wine vinegar, salt, and about 1 cup of water. Purée until smooth. Add more water, if needed, to reach a smooth consistency. Taste to adjust seasoning.
ASSEMBLE THE ENCHILADAS
1 Pop your tortillas in the 350 degrees F oven for 3-5 minutes, just to soften.
2 Spread about ¼ cup of sauce into the bottom of a baking dish or pan. Coat a tortilla in the ancho chili sauce. Spoon about ¼ cup of the quinoa mixture into a tortilla. Roll up the tortilla. Place the tortilla in the sauced baking dish, seam-side-down. Repeat the process with the remaining tortilla. This will make about 10 enchiladas.
3 Spoon extra sauce over the top of the enchiladas. Place in the 350 degrees F oven and bake 10-15 minutes.
4 Garnish with chopped cilantro to serve.
Cooking Tips
Dipping the tortillas in the Roja Sauce helps keep the tortillas pliable and evenly distributes the flavor.
For a quicker version of this recipe, make a big batch of the sauce ahead of time and save for future enchilada dinners.
Copyright 2022 Center for Nutrition Studies. All rights reserved.