Whole Roasted Cauliflower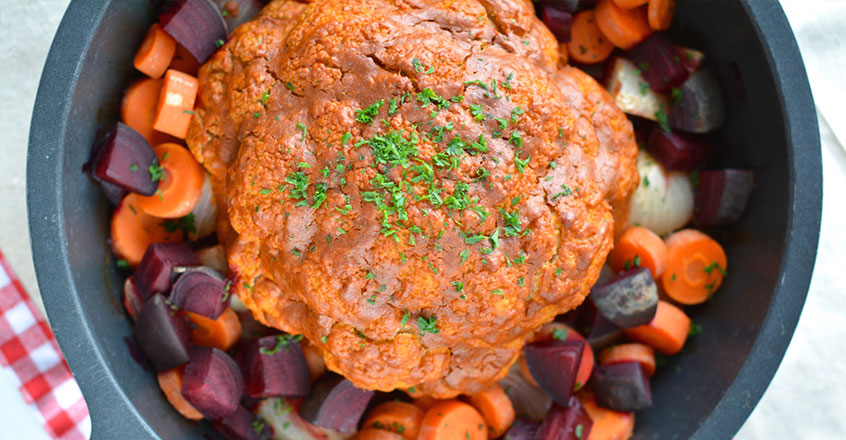 CAULIFLOWER & PASTE
SIDE VEGETABLES
1 large onion, cut into 16 pieces
1 large beet, cut into cubes
2 large carrots, cut into thicker rounds
1 Blend everything besides the cauliflower and parsley in a high-speed blender into a paste.
2 Remove the leaves from cauliflower. Also, remove the stem so that the cauliflower can sit flat and cut a cross into the base (it allows the cauliflower to soften evenly).
3 Put the cauliflower head into a big pot. Add enough water to cover the bottom of the pot and steam covered for 30 minutes.
4 Let the cauliflower cool down a bit and then transfer it onto an oven pan. Rub the cauliflower over with the paste using your hands.
5 Heat oven to 375 degrees F and bake covered for 20 minutes. Next, add the side vegetables into the pan and bake for another 35-40 minutes until the vegetables are tender. If you like your cauliflower very crispy on the outside, put the oven on grill mode or broil for the last 5 to 10 minutes. Make sure that it doesn't burn and check frequently if you choose to do this.
Copyright 2021 Center for Nutrition Studies. All rights reserved.