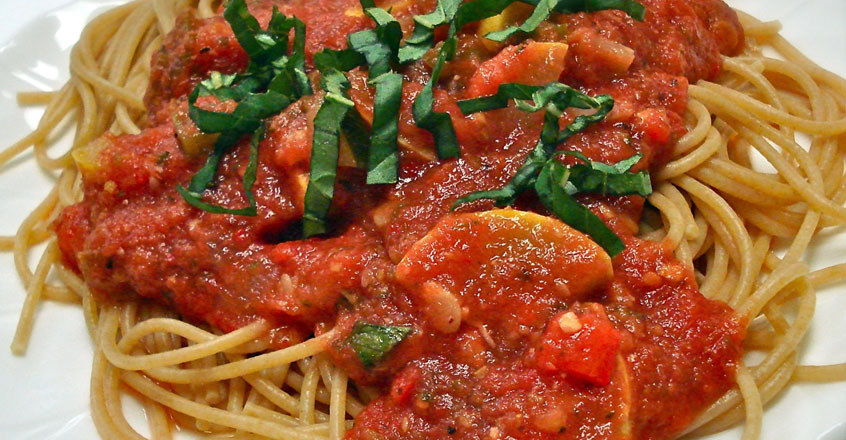 Ingredients
2 Tbsp water or vegetable broth (more if needed)
1 medium onion, diced
½ tsp fresh garlic, minced
¼ tsp crushed red pepper flakes (reduce for less heat)
1 red bell pepper, diced
1 small zucchini, diced
1 small yellow summer squash, diced
2 lbs fresh tomatoes, pureed in blender
1 small can tomato paste (6 oz)
3 Tbsp red wine
2 ½ tsp kosher salt
¾ tsp black pepper
Fresh basil, roughly chopped for garnish
Instructions
1. Heat broth in large soup pot; add onion with water or broth and steam-sauté for about five minutes or until almost golden. Add a little more water if needed to avoid sticking to the pan. Add fresh garlic and crushed red pepper. Sauté for one minute more.
2. Add bell pepper, zucchini, and summer squash. Continue cooking, stirring occasionally, for three or four minutes, or until all vegetables are just tender. Add tomato puree, tomato paste, and red wine. Bring mixture to a boil, stirring thoroughly. Immediately reduce to simmer, and continue to simmer uncovered, until sauce is slightly thickened.
3. Use an immersion blender to process the sauce to desired texture (slightly smooth, yet still a little chunky). Season with salt and pepper, to taste. Garnish with fresh basil. Serve over hot pasta.
100% online, learn at your own pace
Instructor led format
No prerequisites
Continuing education credits