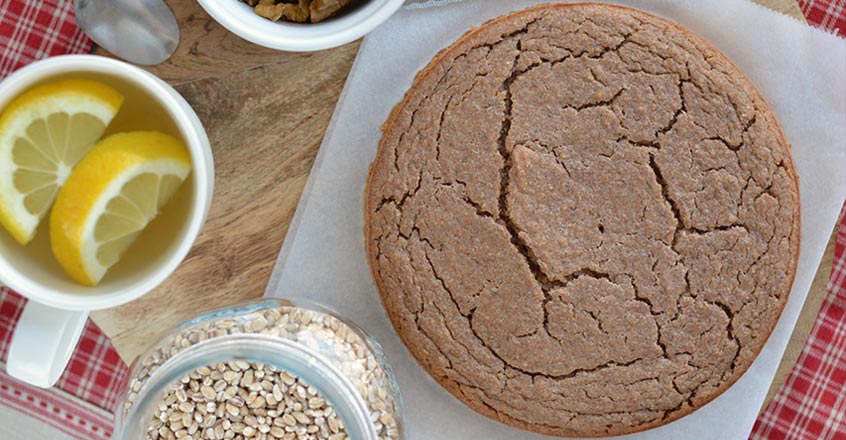 Ingredients
1 cup barley groats, soaked
½ cup plant-based milk, plus 2 more splashes (about ⅛ cup)
Pinch of sea salt
1 medium banana
2 Tbsp applesauce
Handful of walnuts
2 Tbsp baking powder
Instructions
1. Soak barley groats overnight or for 6-8 hours. Soak walnuts for 4 hours. Drain and rinse both.
2. Place all ingredients except baking powder into blender. Blend until the batter is formed. It won't be a smooth and silky batter, instead you'll still see pieces of barley. Don't worry; this is okay. When the batter is done, mix or blend in the baking powder.
3. Line a round 7 inch cake tin with parchment paper and pour the batter in. If you use a bigger cake tin, the bread will be thinner and need less baking time.
4. Bake at 365 degrees for about 40-45 minutes.
5. Let cool and enjoy!
Cooking Tips
1. I used half unsweetened soy milk and half oat milk, which is naturally sweeter than soy giving the bread nice a flavor.
2. Substitute any nuts you like. Soak pecans for 4-6 hours, almonds for 8-12 hours and hazelnuts for 8 hours. No need to soak Brazil and macadamia nuts.
3. If you'd like nut pieces in your bread, chop the soaked nuts and mix into the batter without blending. .
100% online, learn at your own pace
Instructor led format
No prerequisites
Continuing education credits