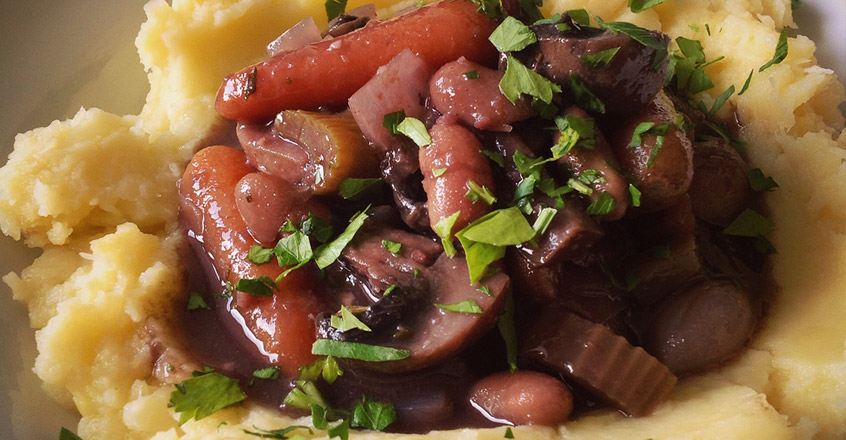 Ingredients
Bean Stew Ingredients
½ lb Mayacoba Beans (or another firm white bean), soaked
1 medium onion, diced
1 stalk celery
½ tsp thyme
1 tsp smoked paprika
8 oz cremini mushrooms, quartered
2 garlic cloves, minced
2 Tbsp brown rice flour
2 cups dry Red Wine
2 bay leaves
1 cup baby carrots
6 oz peeled pearl onions (frozen or fresh, about ¾ cup)
Parsley, to garnish
Parsnip Mash Ingredients
2 Parsnips
1 large Yukon potato
½ cup almond milk
Salt and pepper
Instructions
Bean Stew Preparation
1. The day before: Cover the beans with a few inches of water and soak at least 8 hours.
2. To cook the beans: Drain and rinse the soaked beans. Place the pre-soaked beans in a small pot. Cover with a couple inches of water. Place a lid on the pot. Bring to a boil, then reduce to a simmer. Simmer until the beans are tender, about 60-75 minutes. Meanwhile, make the stew and Parsnip Mash.
3. For the Red Wine Stew: Dice the onion and celery.
4. In a large pot. combine the onion and celery with the thyme and smoked paprika. Cover and sweat over medium heat, 3-5 minutes, until the paprika is aromatic and the onions have softened. When the onions start to turn golden, add the brown rice flour. Cook just until the flour is absorbed, only 1-2 minutes, stirring often.
5. Wash and quarter the mushrooms.
6. Add the mushrooms, red wine, bay leaves, pearl onions, carrots, and 2 cups of water. Cover, bring to a boil, and then reduce to a simmer. Partially open the lid to allow some liquid to steam off.
7. Cook for at least 1 hour.
8. To finish the stew: The beans are done cooking when they are tender and start to fall apart. Drain the the cooked beans and add to the stew. Partially cover and simmer 30-60 minutes. You can also cook in your Slow Cooker, on low, for 6-8 hours. Or, in a 350F oven, for up to 2 hours.
Parsnip Mash Preparation
1. For the Parsnip Mash: Peel the parsnips. Cut the potato and parsnips into large chunks.
2. Place the potato and parsnip in a medium pot. Cover with water. Place a lid on the pot. Bring to a boil, then reduce to a simmer. Simmer until the parsnip can easily be pierced and slide off a knife.
3. Drain the parsnips and potato. Return the parsnips and potato to the hot pot where they cooked. Add the almond milk and start mashing. Mash to desired consistency. Season with salt and pepper. Keep warm until ready to serve.
4. Serve the Stew over the Parsnip Mash. Garnish with parsley and serve.
Cooking Tips
1. Mayacoba beans are firm, white beans. You can substitute with cannellini, giant lima beans, or navy beans.
100% online, learn at your own pace
Instructor led format
No prerequisites
Continuing education credits